Nearly 90% (89%) of enterprises are using cloud services today, according to new research from Savvis, the data center business that CenturyLink acquired two years ago. But only 5% of enterprises depend on the outsourced cloud for the bulk of their IT resources, the research showed.
That scenario will change dramatically over the next five years, however.
"We're on the cusp of a major shift in IT infrastructure models," wrote Savvis in a report summarizing the research findings. "This shift ultimately leads to the outsourced cloud as the dominant model; however, the journey will take almost five years."
Savvis asked respondents about their plans for five different IT infrastructure options, including in-house owned, in-house private cloud, colocation, managed hosting services and outsourced cloud.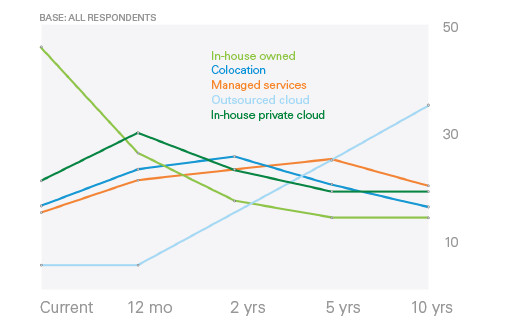 Currently the predominant type of IT infrastructure model is in-house owned, cited by about 45% of respondents as their primary IT model. Within 5 years, however, in-house owned IT infrastructure will be the dominant model for only about 12% of enterprises.
By year five, managed services and outsourced cloud services will be tied for the position of dominant IT model, with each of them being the preferred model for about a quarter of enterprises. At that point, however, in-house cloud services will be on the rise, while managed services will be declining. The outsourced cloud will be the dominant IT model beginning in year 6.
And within 10 years, outsourced cloud services will represent the bulk of IT infrastructure for about 35% of enterprises, the researchers said. At that point, no other model will represent more than 20% of the total.
This shift will not occur as a flash cut, however. "IT organizations will go through a prolonged period of complex, hybrid infrastructure management that ultimately culminates in the outsourced cloud," the report notes.
Other highlights of the research include:
Cloud usage has risen 40% since 2010, when 63% of enterprises were using the cloud.
97% agreed to some extent that their organization would move more workloads into the cloud if they had help assessing and performing the migrations.
The most common cloud application today is storage, cited by 54% of respondents, followed by private cloud infrastructure-as-a-service (40%) and public cloud IaaS (30%).
On average enterprises expect 8.5% revenue growth over the next 12 months, with 90% expecting an increase. Organizations that rely primarily on in-house owned IT infrastructure (45% of the total) expect lower revenue growth. Those expecting higher revenue growth are more likely to have the majority of their IT in colocation (29%), in-house private cloud (27%) or managed hosting (22%)