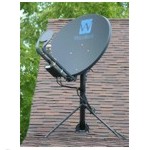 2012 is shaping up to be the year when the new generation of satellite broadband services gets put to the test. The two main U.S. broadband satellite providers — ViaSat/Wild Blue and Hughes Network Systems – both plan to demonstrate their new offerings capable of substantially increased bandwidth in comparison with today's systems at the Consumer Electronics Show in Las Vegas next week.
ViaSat/Wild Blue said it plans to begin delivering service January 16, while Hughes is targeting its next-generation satellite broadband service for a mid-year 2012 launch. ViaSat/Wild Blue's service will be priced at 12 Mbps for $50 – a considerably better value than what the company offers currently. Hughes' bandwidth is expected to be the same or even higher, and most likely will be priced equivalently.
Despite the enhancements, however, the satellite providers are still targeting their offerings to areas where people cannot get landline broadband. ViaSat's CES announcement, for example, notes that there are roughly 15 million U.S. households that lack access to high-speed broadband.
Satellite broadband received a boost as a result of the broadband stimulus program, which allotted $100 million to cover some of the costs of satellite broadband service for people in areas where terrestrial broadband offerings were not available. And the technology is poised to receive a further boost as a result of Universal Service reforms. As part of its plan to transition today's voice-focused Universal Service program to one focused instead on broadband, the FCC also plans to allot $100 million per year to satellite and broadband wireless for areas where other options would be too costly.
Satellite broadband has been criticized for its high latency relative to terrestrial options, for susceptibility to weather conditions and for usage caps. The satellite broadband providers say they have made technology enhancements to minimize latency to the point where it would only be noticeable for "twitch" responses such as video gaming. And in its announcement this week, Hughes said the company is planning "larger download allowances and the ability to bank unused daily data allowances for future use."
Before long we should have some real world feedback on whether the next-generation of satellite broadband is really delivering the dramatically improved performance that providers have been touting.
Also this week, ViaSat/Wild Blue announced that it had renewed its distribution agreement with the National Rural Telecommunications Cooperative, which will now include the next-generation satellite broadband service.