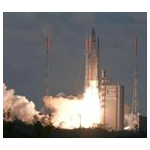 Additional satellite broadband options will be available once the just launched EchoStar XVII satellite becomes operational. The new satellite features 'Jupiter' technology, which apparently refers to its faster broadband performance. The satellite will give EchoStar subsidiary Hughes satellite broadband capability of 20 Mbps or better, with a few caveats.
"The Ka-band EchoStar XVII with JUPITER high-throughput technology will enable HughesNet Gen4–Hughes' fourth-generation satellite Internet service. HughesNet Gen4 will dramatically increase Internet browsing performance and support high-bandwidth applications such as video and music," reports Hughes in a press release. The satellite was successfully put into orbit on July 5, 2012 and Hughes hopes to begin offering service off the new bird in the Fall of 2012.
With the new capacity, HughesNet satellite broadband service will be able to more effectively compete with ViaSat's Exede service (formerly WildBlue), which launched a similar satellite back in late 2011. The caveats for the new HughesNet service include actual throughput performance versus capability. Hughes has not revealed what packages it will offer or any pricing. The new capacity could be used to improve performance for their existing customer base, while also adding new customers, potentially impeding their ability to offer a 20 Mbps tier.
I would assume that Hughes wants to provide a competitive offer to Exede, which currently offers an 'up to 12 Mbps' tier with 7.5, 15, and 25 GB monthly caps, ranging in price from $50 to $130 per month. Hughes currently offers 1, 1.5, and 2 Mbps tiers, priced from $40 to $110.
Both HughesNet and Exede will also need to contend with a growing number of rural broadband targeted technologies, including Verizon's HomeFusion fixed LTE service and emerging white spaces broadband options.