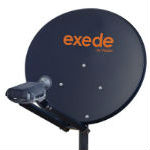 With the launch of new satellite technology from ViaSat and Hughes Network Systems, satellite broadband is gaining more respectability and momentum. New packages from Exede (ViaSat's brand) and HughesNet Gen4 now offer faster speeds (up to 12 Mbps on a good day) and comparatively lower prices of about $50/month. This new approach seems to be working, because by my math, satellite broadband has the broadband momentum, at least compared to DSL.
I did some number crunching from 3Q 2012 earnings reports and found some interesting data. ViaSat reports they added 24,100 net new consumer satellite broadband subscribers in the quarter ending September 30, 2012. By my math, 24K net broadband adds is more net new consumer broadband subscribers than AT&T (-16K), Verizon (-8K), Frontier (1K), TDS (less than 1K), and FairPoint (1.5K) added in the same quarter combined. Only CenturyLink, which added 44K net new broadband subscribers in 3Q 2012 exceeded the number of net new satellite broadband connections. That means that ViaSat's Exede service alone outpaced the combined consumer broadband efforts of all but one of the tier 1 and tier 2 telcos in the U.S. ViaSat reports 429K total consumer broadband subscribers as of September 30, 2012.
To be fair, both Verizon and AT&T far exceeded net new satellite broadband connections with their FiOS (136K) and U-verse (613K) new adds respectively in 3Q 2012. But if you factor in their legacy DSL losses, satellite broadband far exceeds their total net new broadband subscriber counts for the quarter. These numbers also do not include the hundreds of tier 3 telcos, who collectively may rival Exede in 3Q 2012. It's also worth noting that a significant share of the satellite provider's new subscribers may have come through resale partnerships with telcos. ViaSat does not break these numbers out.
I'm not ready to make any bold predictions or assertions from this data. But it is interesting to put satellite broadband momentum into context and it's definitely worth keeping an eye on.