Last week's launch of HBO NOW, a streaming Internet video service that stands apart from HBO's traditional subscription-based pay-TV cable service, marks a new approach via which traditional cable providers and TV broadcasters are looking to meet the competitive challenge from over-the-top (OTT) online video service providers such as Netflix.
HBO NOW provides instant access to all HBO's programming, including every episode of every season of the "best of HBO's award-winning original programming" and Hollywood blockbusters, the pay-TV provider highlights on the HBO NOW launch page. HBO is offering free 30-day introductory trials of HBO with monthly subscriptions priced at $14.99 per month.
Market research company Sandvine last week provided its customers a software update that enables Sandvine to track HBO NOW viewing in time for the launch of the new season of HBO's most popular show Game of Thrones.
HBO NOW Network Impact
Viewing data gathered by Sandvine offers a snapshot of the traffic mix from one fixed network located in the eastern United States as of 9:30 pm on Sunday evening, April 12. "These figures don't show a huge change in some of the numbers we reported in our 2H 2014 report," Sandvine points out. "Netflix and YouTube still combine for almost half of all network traffic, while Amazon continues to have around 2 percent."
Following are Sandvine's actual stats on the share of downstream video traffic generated by leading online video streaming sites on the eastern U.S. network last Sunday night: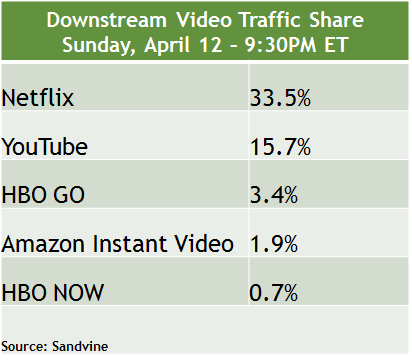 Looking to explain the lack of HBO NOW's impact on this one evening at this one location, Sandvine's Dan Deeth offers the following reasons as possible explanations:
Recent launch – HBO Now launched less than a week ago, not giving tons of time for people to subscribe;
Limited access – Subscribers can only purchase via an Apple product, Sling, or Cablevision account;
HBO GO – As John Oliver points out in his HBO NOW sales pitch, why would a subscriber borrowing HBO GO credentials for free pay for this new service?
Nonetheless, Deeth says, "HBO NOW will be interesting to track in the coming months to see how much (and how fast) it grows. Is it going to be the next Netflix in terms of traffic generation? Maybe. Maybe not."