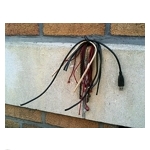 North American broadband subscribers who consume the most streamed entertainment consume seven times more data than a typical subscriber, according to new research from Sandvine. And although those heavy entertainment consumers represent 15% of total broadband subscribers, their share of streaming traffic is 72% and their share of total traffic is 54%, Sandvine said.
Cord Cutter's Data Consumption
Sandvine calls the heavy consumers of streamed entertainment "cord cutters" because although the company doesn't know for sure if these customers have canceled pay TV service, "their usage profile indicates that they are likely using streaming as a primary form of entertainment." The company estimates that cord cutters consume about 100 hours of streamed entertainment and consume about 212 gigabytes (GB) of data per month.
In comparison typical broadband subscribers watch about nine hours of streamed entertainment and consume about 29 GB of data per month, according to Sandvine.
This information may be of great interest to broadband providers who are considering implementing usage caps. It suggests that a usage cap set somewhere between 29 and 212 GB of data per month would have no impact on the vast majority (85%) of consumers.
Comcast Executive Vice President David L. Cohen said today that he believes Comcast will have a usage cap five years from now. Cohen made his comments in response to a question at the MoffettNathanson Media & Communications Summit in New York today.
To date Comcast has experimented with data caps in several markets, comparing slightly different terms from one market to another.
Overall Broadband Consumption
Other highlights from Sandvine's North American landline broadband research:
Mean broadband usage per subscriber was 51.4 GB in the first half of 2014, up from 44.5 GB in the second half of 2013
Median monthly usage increased from 17.6 GB to 19.4 GB during the same period.
Netflix accounted for 34.2% of downstream traffic in 1H 2014, up from 31.6% in 2H 2013.
Key findings on the mobile side:
Median data usage grew 8% between the second half of 2013 and the first half of 2014 – from 443 MB to 465 MB.
During the same period, median usage grew from 84 MB to 102 MB.
"This significant increase in median usage is a phenomenon we have been tracking over the past several years and believe the rate at which it is increasing is no longer tied to first-time adoption of smartphones," wrote Sandvine. "Instead we suspect it is driven by increasing individual usage, as first time smartphone adopters are now comfortable and unleashing the full power of their devices' technology."