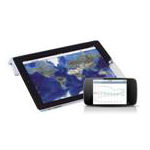 Real-time entertainment – streaming video and audio – continues to generate the most traffic of any category on virtually every network examined, and it will continue to grow with "the emergence of longer form video on mobile networks globally in 2014," according to Sandvine's "Global Internet Phenomena Report: 2H 2013."
Zooming in on North America, the ongoing popularity and growth of Netflix and YouTube account for much of real-time entertainment's network-usage dominance. Combined, the two represent more than half of average traffic during the peak period, Sandvine authors note in the report's executive summary. YouTube stands out on both fixed and mobile networks globally as "the single largest source of Internet traffic in the entire world," according to Sandvine.
Mean fixed access network usage in North America was 44.5 GB in 2H 2013, essentially flat from the 44.7 GB Sandvine recorded for 2013's first half Global Internet Phenomena Report. Median monthly usage dropped from 18.2 GB in 1H to 17.6 GB.
"The reason for the lack of growth is unclear, but could be due in part to the seasonality of the study; in previous reports, we observed higher usage growth in our first half reports. After talking to customers, most are still experiencing a steady 20%-30% annual growth rate," the report authors point out.
The dominant usage category, real-time entertainment, made up 61.45% of aggregate (upstream and downstream) and 67% of downstream bytes for peak period fixed access traffic in North America on average.
Netflix "continues to be the unchallenged leader for traffic, accounting for 31.6% of downstream fixed access traffic during peak period" in North America. That's down slightly from 1H 2013, though Sandvine analysts expect Netflix's "share to return to or even surpass its previous heights," particularly in light of the fact that the data for the 2H report was collected prior to Netflix making SuperHD content available.
YouTube ranked second in terms of aggregate North America peak period data traffic in 2H, accounting for 16.78%. HTTP (9.26%), BitTorrent (7.39%) and iTunes (2.91%) ranked third, fourth and fifth. YouTube's share continued to grow during 1H, increasing 9% to 18.7% for the 2H report. Sandvine attributed the rise manly to home roaming – smartphone and tablet usage in the home – as opposed to "adoption of paid channels."
Focusing in on North American mobile networks, Sandvine found that though YouTube's share dropped 13% to 17.7%, YouTube "continues to retrench itself as the dominant application on mobile networks."
Netflix gained momentum on mobile networks, Sandvine analysts highlight: Netflix's share of North America downstream mobile network traffic nearly doubled, from 2.2% to 5%, over 18 months.
The top 1% of subscribers making the heaviest use of mobile networks' upstream resources in North America account for 18.6% of total upstream traffic, with the corresponding figure for downstream accounting for 11.5% of downstream bytes. "The lightest 50% of users account for only 2.5% of total traffic in large part due to the number of feature phones still in use by subscribers," the report states.
Growing availability of affordable real-time entertainment options is leading to the disappearance of filesharing on many fixed access networks in many regions, Sandvine report authors highlight. "Filesharing now accounts for less than 10% of total daily traffic in North America," they note, which stands in stark contrast to the over 60% of total fixed traffic in North America over ten years ago, when the Global Internet Phenomena Report was first released.