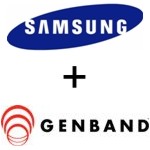 As mobile devices become more versatile, those devices are becoming increasingly popular with employees, who want to use them for work-related tasks. And as more and more employees use mobile devices, it's become increasingly important for employers' unified communications capabilities to extend to the wireless realm – as an announcement yesterday from Genband and Samsung illustrates.
Genband already offers mobile capability for its Smart Office unified communications product which is designed to provide voice, data, video and collaboration capabilities. The new agreement takes wireline/wireless integration a step further by giving rise to special versions of Samsung's SAFE line of mobile devices.
SAFE stands for Samsung for Enterprise and the devices have capabilities such as on-device encryption and support for mobile device management that appeal to the enterprise market. The SAFE line has been on the market for some time; the Genband agreement creates special versions of the SAFE products for use specifically with Genband Smart Office.
Cross-marketing also is part of the agreement. Smart Office will be sold through Samsung channels and the special versions of the SAFE line will be sold through Genband channels, including telecom service providers that handle Genband products.
In an interview, Genband Director of Strategic Marketing Joe McGarvey said Genband already has sold 17.5 million end user licenses for Smart Office, which is available as premises-based software or as a cloud service.
It's worth noting that Genband's use of special versions of the Samsung SAFE devices goes against the burgeoning bring-your-own-device trend. But a key reason employees are bringing their own mobile devices to work is that they find employer-issued devices to be lacking in comparison – so if the Genband/ Samsung capabilities are sufficiently compelling perhaps employees won't mind being required to use a specific device.