The average small rural telco saw revenues increase in 2016 but profitability declined in comparison with the previous year, according to the latest Telergee Benchmark Study. The extensive and detailed rural telecom economics report is compiled annually by The Telergee Alliance, a group of accounting firms that specialize in rural telecom. This year's report was based on financial data from 172 small telcos – a substantial portion of the 800 or so small telcos nationwide.
On average, small rural telcos saw revenues increase 2.8% between 2015 and 2016, according to the Telergee study. Yet operating income dropped an average of 3.9%.
Rural Telecom Economics
The results are not surprising, as telcos' regulated revenues are flat or in decline, driving the telcos to pursue unregulated lines of business, many of which have "super thin" margins, noted Chris Skidmore, senior manager for Moss Adams, a Telergee Alliance firm, in an interview with Telecompetitor.
Some examples of unregulated services that small rural telcos have been pursuing include information technology solutions, home security, hosted services, cloud services, and even setting up and operating data centers and network operations centers, Skidmore noted. By offering services such as those, small telcos were able to push revenues up an average of 3%, but were not able to push margins up commensurately.
Small telcos get 64.5% of their revenue from regulated wireline offerings, with 35.5% coming from nonregulated offerings, researchers said. Those two numbers have been coming closer together over the last 10 years.
Regulated revenues have been dropping for several reasons, according to Skidmore. He noted, for example, that the demand for high-cost support through the Universal Service Fund (USF) exceeds the amount of support available to rural carriers. In addition, long-distance access charges have been declining as the result of policy decisions made several years ago.
While some of this information may be discouraging, Skidmore sees some positive signs in this year's report as well. He noted, for example, that the percentage of customers served over a fiber-to-the-premises connection has been steadily climbing and almost reached 50% in 2016. That's good news, according to Skidmore.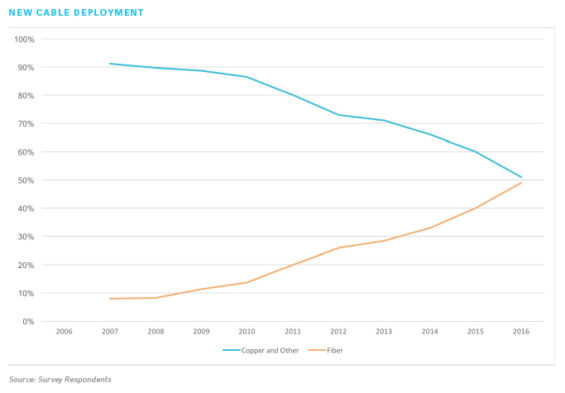 "The more capacity they can get to the end user, the more useful and relevant they're going to be long term," commented Skidmore. "If they can give customers 100 megabits per second and charge a reasonable rate, the customer is probably going to stay their customer."
Another positive is that respondents are spending an average of 22% of operating revenue to maintain and upgrade their networks, Skidmore said. That's a higher number in comparison with several years ago, when regulatory uncertainty caused telcos to scale back on investment. Skidmore attributed the increase, in part, to telcos having a clearer regulatory picture and to the fact that "the Rural Utilities Service and other lenders have been more apt to lend" – particularly in comparison with 2012 and 2013.
Wireless, Video and CLEC Services
In surveying rural telcos for the annual benchmarking report, The Telergee Alliance asks about several specific lines of business, including wireless, video and competitive local exchange carrier (CLEC) services.
Just under 15% of rural telcos surveyed (14.8%) offer wireless service. It's easy to see why the majority of rural carriers avoid this business. Annual churn for 2016 was a whopping 13% and expenses were 102% of revenues.
"For a rural wireless carrier to succeed, they need one or more of three things – scale, USF support and roaming revenues," observed Skidmore. With a few notable exceptions, he said, "what they're not getting is scale."
And as the FCC phases out traditional USF support for wireless carriers, the average amount collected by rural wireless carriers in Telergee's survey dropped to $87 per line in 2016, compared to $140 the year before.  Meanwhile, roaming revenues dropped from an average of $18,500 to $16,000 annually per cellsite.
Just under half (47.5%) of rural telcos offer cable TV and 52.3% offer IPTV, the Telergee report found. Many offer both. The typical telco video offering loses money; carriers tend to offer the service as a means of boosting broadband take rates. Perhaps surprisingly, though, video margins increased 3.6% in 2016, which Skidmore attributes to price increases.
"It's almost like they've had it," commented Skidmore. As content costs have continued to climb (the rise for 2016 was 6%), carriers are increasingly less willing to absorb those costs but instead are increasing rates.
Carriers may be emboldened to make that choice as over-the-top video offerings are becoming increasingly attractive substitutes for traditional pay-TV offerings. The reason is that customers choosing OTT video instead of traditional offerings may find they need to increase their broadband speed to support the OTT option.
Telergee telcos have a 39.8% share in the video market and saw a 1.2% decline in their customer base in 2016.
CLEC services, offered by 35% of rural telcos, were somewhat of a bright spot for those telcos in 2016. Margins on those services increased 10.7%, perhaps reflecting increased take rates and/or increases in broadband data rates similar to what rural telcos are seeing in their traditional business.