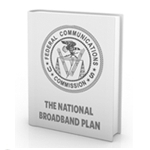 When discussing broadband speeds, the recently released national broadband plan could be perceived to be setting two separate bars. Beyond the so called '100 Squared' initiative, which calls for 100 Mbp/s to 100 million homes, the plan also discusses the new Connect America Fund supporting 4 Mbp/s broadband in rural areas. One could read that to say that urban/suburban territories should get 100 Mbp/s broadband, while rural territories should get 4 Mbp/s.
That's not sitting real well with the rural broadband carriers represented by the Organization for the Promotion and Advancement of Small Telephone Companies (OPASTCO),  the National Telecommunications Cooperative Association (NTCA), and the Western Telecommunications Alliance (WTA). They sent a joint letter to Congress urging them to tell the FCC that the national broadband plan should ensure "consumers and businesses residing in the nation's high-cost rural communities receive the benefits of comparable and affordable broadband service as required by law."
In other words, the final outcome of the national broadband plan should ensure adequate funding mechanisms are in place to enable 'comparable' broadband speeds and capacity for both rural and urban territories.
It's widely believed that the 4 Mbp/s threshold was selected to be inclusive of wireless providers, so they could tap the Connect America Fund (which is the next generation universal service fund) for rural broadband subsidies. That's a controversial move as well, since it conceivably opens up universal service funding to competition between wireline and wireless carriers in any given territory.
The rural telecom associations fear this approach will exacerbate the broadband digital divide. They go on to suggest, it may not even be legal, at least under the current regulations. "The NBP's broadband service goals would also violate the comparability and affordability standards contained in the Communications Act …," says the letter.
The issue illustrates the challenges with bringing broadband to all of America. It's a politically charged undertaking and also quite expensive. No one can argue with the merits of ensuring comparable access to all. The challenge is how do you actually plan and implement such a noble cause?