Small rural broadband providers continue to increase the speeds that they deliver by deploying ever-faster fiber broadband, according to NTCA — The Rural Broadband Association. And that has impacted the most popular broadband speed tier.
Almost 80% of customer locations (79.3%) are served by fiber-to-the-home (FTTH) according to NTCA's annual member survey report, up 4.3% from the 2021 survey. On average, 13.8% of locations still are served by copper loops. Fiber to the Node (FTTN) is used by an average of 4.1% of serviceable locations, cable modems by 1.8%, unlicensed fixed wireless by 0.5% and licensed fixed wireless by 0.4%.
The impact of wider fiber availability can be seen in average speeds. Almost 82% of NTCA member providers now deliver average speeds of 100 Mbps or faster, up from 75% last year. Almost 61% of customers on average have access to gigabit downstream speeds, compared to last year's 55%.
The percentage of subscribers with access to downstream speeds of 25 Mbps but less than 100 Mbps was 9.3% this year and 10.6% in 2021.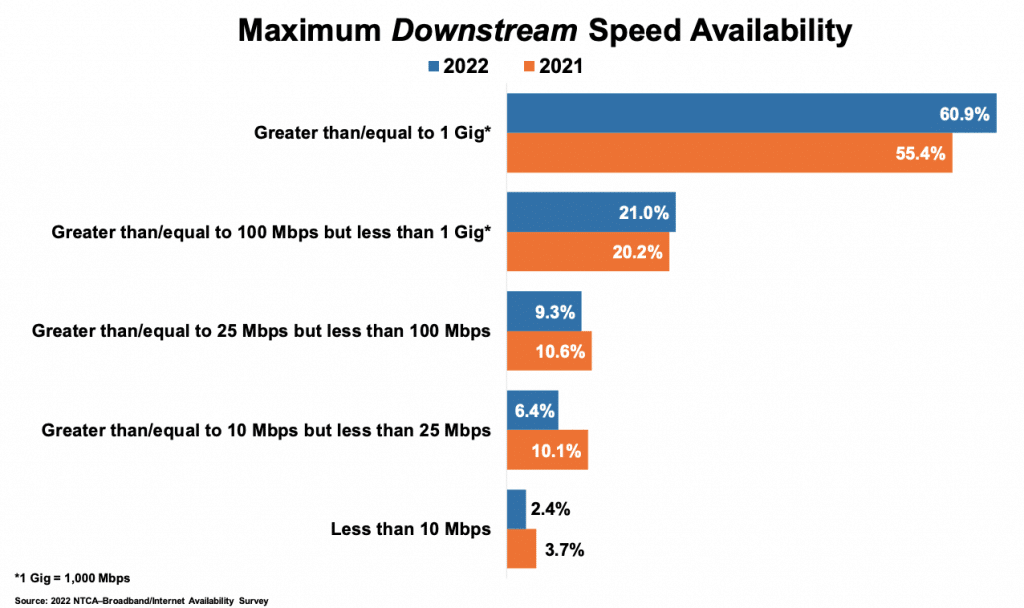 Availability of slower speed connections decreased commensurately. Connections offering 10 Mbps but less than 25 Mbps declined from 10.1% last year to 6.4% in 2022. And those offering less than 10 Mbps represented 3.7% of the total last year and 2.4% this year.
Most Popular Broadband Speed Tier
Not only are faster speed connections more available — more customers are subscribing to the higher speeds.
NTCA found that 49% of respondents subscribe to speeds of 100 Mbps or faster broadband speeds, a jump from 37% last year. For the first time, services of 100 Mbps or faster speeds are more popular than services between 25 Mbps and100 Mbps. Almost 37% of those surveyed subscribe to services between 100 Mbps and 1 Gbps, making it the most popular speed tier. Just over 31% subscribe to services between 25 Mbps and 100 Mbps, which was the most popular speed tier last year.
The survey, which was conducted in August, was responded to by 38.3% of NTCA's members. Responding providers have service areas of about 2,080 square miles.
"At a time when there's so much focus on how to reach millions of rural Americans still awaiting quality broadband access, this survey highlights how NTCA members have led the charge to date in delivering on this promise for so many and the tremendous work they continue to do to close remaining gaps," NTCA Chief Executive Officer Shirley Bloomfield said in a press release.
"I'm proud to share that our small, community-based providers have risen to meet this broadband moment again in 2022, delivering affordable, high-speed connectivity to some of the hardest-to-reach areas. Our members are poised and ready to keep up this momentum in 2023, and we think they provide a remarkable blueprint for how best to tackle outstanding challenges in rural broadband."