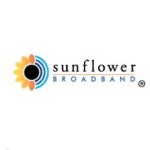 West Point, Georgia-based triple play provider Knology announced today it will acquire Sunflower Broadband, which provides voice, video and data services to residential and business customers in Lawrence and Douglas County, Kansas, for $165 million in cash.
Expected to close in 4Q this year, Sunflower is expected to add some $51 million in revenue, $22 million in cash flow and another $5 million in "synergies" to Knology's business in 2010, according to Knology.
In addition to acquiring an incumbent cable operator that adds some 54,000 homes passed to its existing footprint and some 105,000 revenue generating units (RGUs) to its business, the purchase is right in line with Knology's strategic focus of "operating in secondary and tertiary markets with favorable demographics and positive economic growth characteristics," management noted, adding that the two companies have a "similar hybrid fiber/coax network architecture." The acquisition also opens up "attractive edge-out possibilities, tack-on acquisition and larger acquisition opportunities bridging Knology's southeast and upper Midwest footprints."
Knology will dip into its cash on hand and tap the capital markets in a way management believes will optimize the capital structure of Sunflower's business, it was explained. Other recent rural cable transactions include Cablevision's purchase of Bresnan Communications.