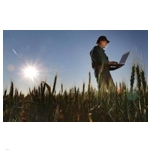 Government entities provide over $15 billion in farm and agriculture subsidies every year. Among other goals, these controversial payments are designed to help stabilize food prices and keep American crops competitive in the global economy. Some call these subsidies a 'sacred cow' because they are very politically charged and are defended rigorously by the so called 'farm lobby.'
Bloomberg News published a recent piece that illustrates a crack in the armor of farm subsidies, where they suggest the Obama administration is beginning to shift funding away from farm subsidies to other rural development programs, including broadband infrastructure. The article points to recent reductions at the U.S. Department of Agriculture, including a $6 billion cut in payments to crop insurers. USDA is also attempting to cut "… as much as $5 billion a year from an automatic payments program that compensates farmers even if they grow nothing." Meanwhile, funding for broadband and other rural development programs at the USDA is growing.
"[Agriculture Secretary] Vilsack calls the deficit an incentive to revamp farm support and allocate funds to alternative energy and broadband projects …" reports Bloomberg News. Proponents of this shift in strategy suggest that rural markets need to diversify beyond their reliance on agriculture and diverting farm subsidies is one way to encourage that. There is disagreement in this approach.
"You close up the programs, and it'll be the 1980s all over again," Glenn Johnson, 37, a rancher from Pipestone, Minnesota tells Bloomberg, referring to the record foreclosure rate for farms during that period.
The broadband stimulus program is one example of the interest in investing in rural broadband. Those funds weren't diverted from farm subsidies, but all involved recognize the $7.2 billion stimulus program is nothing more than a down payment on getting true broadband to all of rural America. Many are looking for a second (maybe even third) broadband stimulus program.
It's going to require more money, and a lot of it to reach universal broadband. Yet, no one can really answer where these additional broadband funds will come from. Under the FCC's national broadband plan, there is a shift in universal service funding towards broadband, but the plan advocates little or no growth for USF to fund this new broadband focus. So where is the additional money going to come from? Is the farm subsidy program fair game?