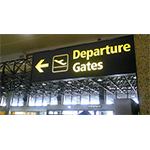 Which carrier offers the best airport wireless service? According to the latest Root Metrics data, AT&T and Verizon Wireless took top honors at two of the five busiest airports out of 50 studied – Atlanta's Hartsfield-Jackson and Chicago's O'Hare.
Verizon won outright at LAX in Los Angeles, while AT&T garnered a first-place award outright at New York City's JFK.Airports and airlines continue to invest in new wireless network communications technology as they attempt to keep pace with travelers' growing need to stay connected while on the go.
Whether in airports, or even in the air, reliable, high quality mobile connectivity is increasingly seen as a necessity, and an opportunity for airports and airlines to stand out among business travelers, RootMetrics highlights in a press release about the best airport wireless research.
Hartsfield-Jackson took first place among airports, repeating, and improving upon, its performance in Root Metrics' previous round of testing. The median download speed at Atlanta's main airport was 40.4 Mbps on AT&T's mobile network there, up from 28.9 Mbps. Median download speed for Verizon at Hartsfield-Jackson came second at 39.6 Mbps.
Mobile performance at O'Hare ranked second. Recorded median download/upload speeds for AT&T came in at 29.1 and 14.4 Mbps, respectively. Sprint earned perfect scores for reliability – getting and staying connected.
Things weren't so good at LAX, the second busiest airport in the nation. No carrier managed to post a download speed faster than 2.8 Mbps, while three carriers posted median download speeds below 1 Mbps, according to RootMetrics. This year's results were about the same as in 2H'15, the market research providers points out.
Best Airport Wireless
AT&T mobile network performance at airports across the country continued to improve in 1H'16. AT&T earned 20 RootScore awards in total in this year's test, up from 15 in 2H'15. AT&T also showed well in terms of reliability, achieving 97% ratings for getting and staying connected long enough to complete a task at all 50 airports in which tests were conducted.
In addition, AT&T raised the bar on its top-end mobile network speeds. Its median download speed of 50.5 Mbps at Midway International was the fastest RootMetrics recorded across the nation in 2H´15. AT&T improved on that in 1H'16 by posting a median download speed of 76.1 Mbps.
Overall, RootMetrics recorded median download speeds of 20.0 Mbps or higher for AT&T at 19 airports. That was up from 12 in 2H´15.
That said, results varied widely across the sample. AT&T posted median download speeds under 10.0 Mbps at 20 airports, RootMetrics noted.
Among other major carriers, T-Mobile won 15 RootScore Awards in the latest round of testing, down from 16, while earning an overall RootScore of 99.9 in Fort Myers, Florida. Sprint also was recognized for excellence in getting connected at 42 airports and excellence for staying connected at 46.
Sprint won five RootScore awards while registering its highest RootScore (99.6) at Oakland International Airport in California, where it posted its fastest median download speed of 60.8 Mbps. RootMetrics also found the reliability of Sprint's mobile network services improved as it was able to get and maintain a Sprint mobile connection 97% of the time at 40 airports this year, up from 37 in 1H'15.
Image courtesy of flickr user Karen Bryan.