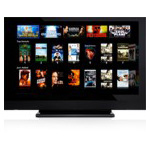 Senator Jay Rockefeller (D- W.Va.) yesterday afternoon introduced legislation aimed at protecting over-the-top video content from actions the cable TV industry might take to stifle its growth, reports the Washington Post. The bill, to be known as the "Consumer Choice in Online Video Act," would restrict broadband providers from putting limits on Internet connections that could degrade online video service quality and would set ground rules for how online video companies could negotiate carriage agreements with content providers, the Post report says.
As of this morning Rockefeller had not yet made the bill public but the senator provided a statement to several news media stating that his legislation "aims to enable the ultimate a la carte – to give consumers the ability to watch the programming they want to watch, when they want to watch it, how they want to watch it, and pay for only what they actually watch."
A Rockefeller aide told Variety that the legislation would give online video providers the option of being treated like cable and satellite providers. Online providers choosing that option also would face retransmission content and must-carry requirements for broadcast TV content – a requirement that cable companies already must meet.
Rockefeller is the chairman of the Senate Commerce Committee, which should help ensure that the legislation gets serious consideration. But if the response that a related bill introduced earlier this year is any indication, Rockefeller's legislation could face an uphill battle.
Senator John McCain (R- Ariz.) in May introduced a bill aimed at preventing content providers from requiring cable providers to take less popular programming in order to get popular programming, but that bill has not made much progress.
Organizations representing the cable TV industry had mixed reactions to the Rockefeller legislation.
In a statement, the National Cable Television Association suggested that online video provider Netflix, with nearly 30 million U.S. subscribers, already has considerable market power. The association also noted that "Hulu, iTunes, Amazon Prime, Redbox, Vudu, Vimeo, Boxee, Roku, AppeTV and You Tube are providing consumers with increasing options for competitive entertainment choices, facilitated in large part by massive ongoing investments in broadband networks."
Cable companies, of course, are among the companies making the massive ongoing broadband investments.
The NCTA also noted that "in a world marked by such dynamism and robust competition, prudent policy dictates the removal of regulatory obstacles for all instead of creating marketplace disparities that would 'cherry pick' rights and obligations for some."
The American Cable Association, which represents smaller cable companies, was more positive about the Rockefeller bill.
In a statement, the ACA said it "shares the Chairman's concerns, as reflected in his bill, about the ease with which certain existing players in the market can use their market power to harm consumers and impede competition."
The association added that "this is a significant concern for small cable operators and reflects the need to consider a new approach."