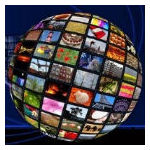 It looks as if Twitter is losing ground to Facebook among social TV consumers according to the second edition of Ring Digital's Social TV Index Report. To be released and distributed at the NAB (National Association of Broadcasters) Show in Las Vegas next week, the report shows that 75.6 percent of consumers who have used social media "to vote, post, share or comment about something on TV" have used Facebook in doing so," up from 70.4 percent seven months ago, according to the report.
In contrast, 25.4 percent have used Twitter to share something about TV programming. "That's down 8.6 percentage points – a drop of 25 percent," the report authors highlight.
One-quarter of consumers have engaged in social TV activity as Ring Digital defines it. That's up slightly compared to seven months ago.
Commenting on Ring Digital's latest findings, founder and publisher of the Social TV Index Brian Ring said: "Twitter has – and will continue to have – a special relationship with the Broadcast TV industry. This is particularly true within the genres of Sports and News, where Twitter's unique technology has come to serve as a sort of 'mobile-first' replacement of the RSS distribution protocol.
"But our research may be an indicator that Twitter will need to be more creative to fully realize the nature of that relationship. From the outside, it looks like Wall Street may have successfully pulled them into a head-to-head battle with Facebook – and Twitter can't win that battle."
Ring added that: "Twitter has done a fantastic job the past month or two pivoting toward a B2B and B2B2C approach that will serve them well. Periscope, TV Timelines, and Curator are three products that Twitter has launched in just the last month. Twitter is an influencer's platform. That makes Twitter incredibly powerful and special. But it doesn't make them Facebook."
Social TV Trends
Turning to social TV engagement on other platforms, Ring Digital found such activity on Instagram, SnapChat and YouTube to be "low and stable."
Mobile video and social TV are the main drivers for six growth use cases for the TV industry, according to the report. Ring summarizes them as: Tune-in, EPGs and what to watch; bonus content and backstage pass; public and private water cooler; UGC live, news and public square; cross-platform graphics and text; and real-time polls and participation.
In addition, Ring Digital finds that four distinct sports industry markets are all converging on mobile social digital apps: sponsorships, ticketing, merchandising and TV and digital, which encompasses OTT video, premium viewing and social TV.
Adding to the laser focus on young adults, Ring points out that the "sweet spot for Social TV is young adults aged 25-34, not Gen Z'ers in the 18-24 group."