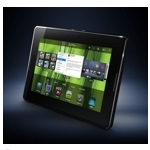 Looking to 'out-iPad' Apple in the fast-growing tablet computer market Apple created, RIM unveiled its own contender for tablet glory yesterday, the BlackBerry Playbook. With the Playbook, it looks like RIM's trying to be all things to all people. In addition to trying to capture consumer attention, RIM is trying to leverage their existing relationships with enterprise IT departments with the new tablet by providing "advanced security features, out-of-the-box enterprise support and a breakthrough development platform for IT departments and developers," according to RIM's news release. RIM says the device will be available starting early next year, but didn't reveal any pricing information.
"Ultra portable" and "ultra thin," the Playbook weighs in at less than a pound and is less than half an inch thick. It features a 1-GHz dual core processor, a high-resolution 7-inch touchscreen display, Wi-Fi 802.11 a/b/g/n, and a new BlackBerry Tablet OS based on QNX Neutrino that supports "true symmetric multiprocessing." Making the case for it so-called "uncompromised Web browsing," it supports Adobe Flash Player 10.1, Adobe Mobile AIR and HTML-5, a clear differentiation factor over the iPad, which does not support Adobe Flash. Dual HD cameras come support video capture and videoconferencing and can record at the same time while an HDMI-out port enables users to pipe video out to external displays with full stereo sound as well as HD-quality resolution.
RIM's also looking to leverage their corporate market-leading BlackBerry smartphone, and its BlackBerry Enterprise Server software in its effort to make the Playbook tablet a success. Both can can be used together with the Playbook via a secure Bluetooth connection, according to the news release. Although RIM says later versions will support both 3G and 4G, the first Playbook will only come with Wi-Fi and Bluetooth wireless connectivity.
RIM and other device manufacturers are eager to meet the stellar growing demand for tablet devices. As noted in a previous Telecompetitor post , Best Buy CEO Brian Dunn told the Wall Street Journal that their internal analysis shows that "… the iPad had cannibalized sales from laptop PCs, especially netbooks, by as much as 50%." Responding to the iPad threat, Samsung has teamed up with Verizon, AT&T (the iPhone's exclusive U.S. carrier), T-Mobile, and Sprint to launch the alternative Galaxy Pad, which runs on Android, Google's fast-growing mobile OS. Dell and Panasonic have also introduced tablet competitors.