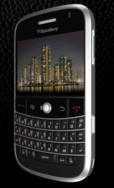 RIM introduced its answer to the iPhone's move into the enterprise space in a Bold way. The Bold is RIM's first 3G phone. The Bold hopes to stem the pending iPhone enterprise tide, by introducing similar features and a new style and design. It sets up what will be an interesting and pitched battle for RIM's historical base – enterprise wireless customers. The new Bold will be exclusive to AT&T for a short while in North America and will offer tri-band HSDPA high-speed access, integrated GPS, Wi-Fi access, a faster processor, and 1 GB of onboard memory. The Bold is expected to launch sometime this Summer.
The Bold also attempts to provide an alternative to the iPhone's rich multimedia heritage. Some key multimedia features include:
on-the-go web browsing experience with desktop-style depiction
a 2 megapixel camera with video recording capability, built-in flash and 5x digital zoom
a media player which can display pictures and slideshows quickly and play movies in full screen mode
audio can be played over the handset's dual speakers in stereo sound, and when using wired headphones or external speakers, the media player gives the user an equalizer with 11 preset filters
includes the Roxio Media Manager for BlackBerry as well as Roxio Photosuite 9 LE, which makes it easy to enhance pictures
synchronization of iTunes digital music collections through the new BlackBerry Media Sync application
In addition to Apple's move on the enterprise sector, they are also rumored to be close to launching a 3G iPhone soon. Early indications are that the Bold will provide some competitive cover for RIM against the iPhone, especially considering their embedded customer base and superior email functionality. But Apple has the touchscreen, marketing prowess, cool factor, and an almost cult like following. Add 3G capability to that mix, and the iPhone will certainly be a contender to fear. Stay tuned.