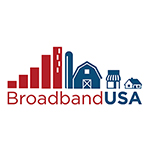 The National Telecommunications and Information Administration has launched its revamped the NTIA BroadbandUSA website.
NTIA said the revamped website is designed to inform the public about NTIA's work to expand broadband connectivity through educating, convening and assisting stakeholders.  The new website is to serve as a one-stop shop for broadband information around the federal government and should make it much easier for users to find events, webinars and publications they need.
NTIA BroadbandUSA
Working through the Broadband Interagency Working Group, NTIA created the Broadband USA site to enable federal agencies that support broadband connectivity and digital inclusion to publicize resources through a one-stop online portal. The site is intended to help communities and their private local exchange carrier and Internet service provider partners find resources and funding to support their local broadband efforts by providing information on federal resources, with links to federal grant programs that may fund broadband deployment and adoption projects, said an NTIA administrator in a blog post.
The online portal supplements ongoing BroadbandUSA work to help local and state governments, industry and nonprofits obtain the tools they need to expand broadband connectivity and promote digital inclusion. For example, BroadbandUSA continues to assist information sharing among states through the State Broadband Leaders Network (SBLN).
The SBLN provides perspective about what is working and the barriers and gaps that persist at the state and local level. It is hoped that this information can serve as an important link to communities that may benefit from BroadbandUSA services, which includes technical assistance to state and local governments, industry and non-profits on a range of broadband projects.