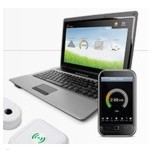 Retail businesses will spend some $2.5 billion by 2020 to buy and install hardware in an attempt to capitalize on ¨Internet of Things¨ technologies, according to a new market forecast from Juniper Research. That would amount to a nearly fourfold increase over the estimated $670 million they spent this year, researchers said.
Bluetooth Beacons and RFID tags are among the types of digital communications technology that Juniper includes in its list of IoT devices and hardware. Bluetooth Beacons give retailers ¨visibility over footfall,¨ as well as push specific time-relevant product and pricing information to customers' smartphones, Juniper explains in ¨The Internet of Things: Consumer, Industrial & Public Services 2015-2020.¨
According to Juniper's research findings, retailers that are already taking advantage of IoT technology are set to gain significant market advantage over those that haven't.
Retailer IoT Spending Forecast
The integration of RFID tags, beacons and connected consumer electronics, including wearables, with Big Data software analytics holds the potential to deliver valuable in-depth insight into customer preferences, the effectiveness of promotions and discounts, as well as an enhanced customer experience. In addition, the combination of IoT devices, hardware and software can reduce employee numbers and labor costs and enable dynamic, situation-driven pricing.
"Retailers such as Zara and Target are already taking advantage of the benefits offered by RFID asset tracking," research report author Steffen Sorrell was quoted in a press release. "Meanwhile the beacon industry is expanding rapidly; used as a method to provide consumers with contextually relevant information in conjunction with their smartphone or wearable will enormously enhance the in-store experience."
Attitudes toward and methods used for cybersecurity will have to evolve rapidly as the number of connected IoT devices and equipment rises to an expected 38.5 billion by 2020, Juniper added.
Additional highlights of Juniper's latest research results include:
70% of IoT units are expected to be composed of non-consumer devices by 2020.
With diverse business models and aims of IoT projects such as service revenue, spend and cost-savings taken into account, Juniper forecasts the IoT opportunity to approach $300 billion in 2020.