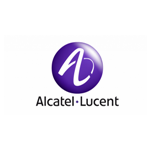 An announcement today from Alcatel-Lucent reminds us of a new problem that has arisen as more and more customers use residential broadband at speeds up to a gigabit per second: The customer's Wi-Fi connection can become a new network bottleneck. According to Alcatel-Lucent, the problem gets worse as consumers increase the number of devices such as smartphones, tablets, smart TVs, and gaming consoles that are connected to the Internet.
Alcatel-Lucent attacks the problem on several fronts with a new optical network terminal (ONT)/ home network hub announced today, and I'm sure we'll be seeing other manufacturers launching similar solutions.
Residential Gigabit In-Home Challenges
Technology built into the new Alcatel-Lucent ONT/ home network hub with the goal of boosting in-home bandwidth includes:
Up to 500 milliwatts of transmit power, depending on the world region, aimed at ensuring that Wi-Fi performs consistently on multiple devices located throughout a home
USB 2.0 and USB 3.0 technology provides faster access to large data files such as photos, videos and music
Dual-band Wi-Fi supporting virtually every Wi-Fi standard including 802.11ac/n in the 5 GHz band and 802.11b/g/n in the 2.4 GHz band.
Regarding the offering's Wi-Fi capability, an Alcatel-Lucent spokesman said, "you can use both spectra at the same time to connect both high-capacity devices as well as standard-bandwidth-consuming devices to the ONT at the same time."
As the spokesman explained, "Selecting a frequency is done with SSIDs. Each frequency can have multiple SSIDs and based on those, you connect to either one or the other."
As for wired connectivity, the spokesman said the offering has four gigabit Ethernet interfaces and two POTS interfaces.
The product, currently in customer trials, is targeted for release in third quarter.