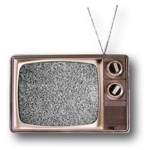 Researchers at the University of California Berkeley have come up with an innovative idea for maximizing the use of TV white spaces spectrum for mobile broadband. In a post on the Google policy blog, the researchers argue that users of white spaces spectrum should be allowed to establish different power levels depending on geography by leveraging the dynamic database technology that already underlies TV white space deployments.
The researchers – Associate Professor Anant Sahai and graduate student Kate Harrison – took the time to plot the number of vacant TV white space channels nationwide. Not surprisingly, populous areas, particularly in the eastern part of the U.S., have fewer channels available than in sparsely populated areas in the west but away from the coast. While densely populated areas may have fewer than seven channels available, more sparsely populated areas may have more than 42 channels available.
Because of this, the researchers argue that not all users of TV white spaces technology should be bound by an identical power limit. If users of white spaces spectrum in less populated areas could use higher power levels, they could gain higher data rates without interfering with TV broadcasters that do use the broadcast spectrum.
As the researchers note, TV white spaces equipment already has the ability to check in with a dynamic database to determine which TV broadcast channels are vacant in a particular geographic area so that the equipment can be automatically set up to use vacant spectrum.  "With this setup, it's easy to simultaneously assign a custom transmit power," the researchers argue in the blog post.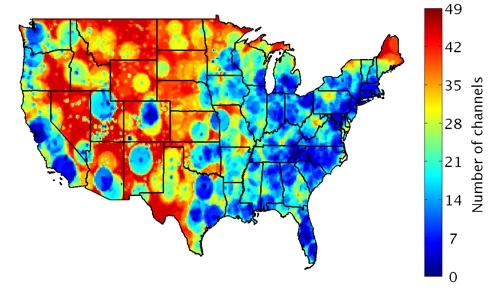 The researchers also plotted geographically the bandwidth that can be supported using a single power limit everywhere, with those limits set low enough to preserve reception in densely populated areas. Using this model there is considerable variation in total supported bandwidth from one area to another, with some areas seeing total bandwidth as high as 700 Mbps while some other areas see bandwidth of less than 2 Mbps.
A companion map shows that if power were allowed to vary by location, a large portion of the U.S. could receive bandwidth above 107 Mbps.
The maps were created by using U.S. census data as well as a list of the 8,186 U.S. TV towers and an ITU propagation model. Researchers assumed that white space towers would be placed to serve 2,000 people each. As part of their research, the UC- Berkeley academics did a real world simulation which they said verified their concept.
The dynamic database technology that already supports TV white spaces deployments could easily be tweaked over time as needed as stakeholders gain more experience with variable power levels, the researchers note. "This lets us refine algorithms over time – including testing them in small regions before deploying them to the entire nation – in order to improve data rates for users," the researchers argue. "Through this, the white spaces could open up an exciting new realm of real-time data-driven policy."
An academic paper written by the researchers with details about the research, titled "Seeing the bigger picture: context-aware regulations," is available on the UC Berkeley site.
Google has been involved with TV white spaces in several ways, including acting as one of several competing white spaces database administrators and supporting the AIR.U initiative that aims to bring broadband to rural university communities using white spaces technology.