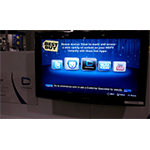 Household smartphone penetration jumped six percentage points year-over-year to reach 80 percent, but that only gets them to second place for screen penetration, according to CTA's (Consumer Technology Association) "19th Annual Consumer Technology Ownership and Market Potential Study." Americans own 27 million more smartphones than they did just a year ago.
CTA's latest annual consumer technology report also reveals that TV sets continue to be the most popular "technology device" in the U.S., a position they have held for decades. TV sets can be found in 96 percent of U.S. households, CTA highlights.
Taking a broader perspective, CTA found an overall year-to-year increase in the overall installed base of connected devices in U.S. households from 2016 to 2017 – including smart home devices, smart TVs, wearable tech and wireless speakers.
"Anywhere, anytime" network connectivity has become a driving, and defining, trend in our time, and smartphone ownership has been a leading example, CTA president and CEO Gary Shapiro said for a press release.
"Smartphones are our personal hubs for innovative technologies like smart homes, connected cars and voice-recognition services. And, as more of us recognize the ability of technology to change our lives for the better, smartphones will continue to be one of the most pervasive technologies owned in homes throughout the U.S.," he added.
Screen Penetration
Technology devices with screens — televisions, smartphones and laptops – are three of the top five most commonly owned types of technology devices, according to CTA, and ownership will continue to grow.
One-third of survey respondents told CTA they would buy at least one smartphone in 2017. In addition, one-fifth said they plan to buy a television or laptop in the coming year, CTA senior director of market research Steve Koenig pointed out.
"U.S. consumers are quickly embracing the rapid rise of today's 'screen culture,' demonstrating their appetite for connected devices that enable easy and accessible consumption of content of all types," he was quoted.
Key Takeaways
The composition of CTA's 2017 list of the five most popular consumer technology devices remained largely unchanged from 2016. The trade association did highlight a few notable within those ranks, however:
Televisions: While household ownership remains steady at 96 percent owning at least one TV, the total number of units owned (308 million) decreased by three percent YOY, reflecting a very slight decrease in the number of TVs in use per household.
Smartphones: With smartphones reaching a record level of household penetration (80 percent), they jumped solidly into second place among the country's most frequently owned tech products; the total number of smartphones owned also increased significantly to 238 million (up 13 percent).
DVD/Blu-ray players: After ranking second on this list for several years, household ownership levels dropped seven percentage points YOY (70 percent) and unit ownership fell 14 percentage points (142 million).
Wired headphones and earbuds: With the addition of earbuds, household ownership of this category now sits at 70 percent, boosting this audio technology up one spot from last year's report; these are the country's most frequently owned tech product by unit (352 million).
Notebooks, laptops or netbooks: While household ownership increased slightly (69 percent, up one percentage point), the category fell one spot in the rankings despite a 12 percent YOY jump in unit ownership.
Smartphones and in-vehicle communications/safety systems posted the largest gains in household ownership among connected devices over the past year. Both rose six percentage points. Forty-five percent of U.S. households now have at least one connected vehicle with driver-assist safety or communications systems, such as back-up sensors, rearview cameras or hands-free calling.
In addition, smart home devices, smart TVs, smart watches, wearable activity trackers and wireless speakers all saw four percent YOY increases in household ownership.
"Our research last year showed most consumers are excited about automated driving features and self-driving cars, but there's still some hesitancy about the technology," commented Koenig. "This report is further evidence that, despite that wariness, more and more drivers want innovations that help keep them safer on the road.
"So, as a broader range of our driving tasks are automated via driving-assist technologies, eventually, riding in a self-driving car will be just an incremental step from the in-car tech we've all come to know and love."
Emerging Tech
Looking at emerging consumer tech, CTA found that 4K Ultra HD (UHD) television is growing fastest among U.S. households. UHD TVs can now be found in 16 percent of U.S. households, according to CTA, up nine percent YOY. Furthermore, 11 percent plan to buy a 4K UHD TV in the coming year.
In addition, household ownership of voice-activated digital assistants, drones and virtual reality headsets experienced strong growth.
U.S. households have been taking to digital voice assistants faster than they typically adopt new consumer electronics, Parks Associates highlighted in recently released market research.
Voice assistant penetration rose from 5% of U.S. broadband households in 4Q 2015 to 12% in 4Q 2016, researchers said.
Image courtesy of flickr user lynnmarentette.