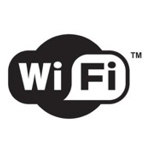 Research underway in the Netherlands could put somewhat of a wet blanket on carriers' increasingly ambitious plans for offloading mobile data traffic onto Wi-Fi in congested areas. In areas that have numerous wireless networks, the bandwidth available on an individual Wi-Fi connection for actual data traffic may be as low as 20% of total bandwidth, reports website Phys.org, citing research conducted by the University of Twente's CTIT research institute.
"The more devices that are simultaneously using a network, and the more active networks there are, the greater the amount of bandwidth consumed by various control mechanisms, rather than by actual data traffic," explained Phys.org — a science, research and technology news service — in the post. As a result, it is becoming less of an exception and more of a rule for Wi-Fi connections to receive only half of their advertised speed, the researchers said.
The results of the University of Twente research are expected to be published soon in the Journal of Green Engineering Special Issue on Cognitive Radio.
The research comes to light as wireless network operators are gearing up to rely more heavily on Wi-Fi as a means of offloading data traffic from cellular networks in high-traffic areas. The Wi-Fi Broadband Alliance's next-generation hotspot initiative, for example, is working on standards to enable mobile data users to automatically roam between cellular and Wi-Fi networks according to parameters established by network operators. And there has been considerable speculation that plans recently announced by several cable companies to share one another's Wi-Fi hotspots could eventually mutate into a cellular offload solution.
No doubt the people working on these sorts of initiatives will be closely reading the University of Twente research when it becomes available. The good news is that University of Twente researchers seem to believe Wi-Fi efficiency can be addressed with some further development work.
The Phys.org post quotes one of the researchers: "It is important that manufacturers explore ways of improving the Wi-Fi standard in busy scenarios. That way we can continue to use this great technology for many years to come."