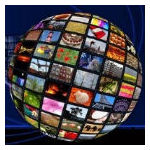 Primetime is becoming less "prime" when it comes to TV viewing among those under 30, according to new research results published in a GfK white paper, "Primetime TV 2004-2012." Those in Generation Y (ages 13-32) are 30% less likely to be watching live network TV in "the crucial first hour of primetime" between 8 pm and 9 pm ET than they were four years ago, GfK found.
The speed and scale of the change is revealed by Gfk finding that such "linear viewing" of network TV channels now makes up 57% of Gen Y TV activity in the first primetime hour as compared to 82% in 2008. In contrast, the proportion of Gen Y'ers who are watching recorded programs during the first hour of primetime has nearly doubled, from 15% to 28%. Another 12% are watching streaming Internet video on their TV sets during this time period, an activity "that was not even on the radar in 2008."
Changes in the primetime TV viewing habits of older Gen X'ers (ages 33-46) have changed substantially, but less dramatically, according to GfK. From 8 pm to 9 pm, 65% of the Gen X TV audience is watching a TV network or channel live. That's down from 80% four years ago. Their viewing of recorded video during the first hour of primetime jumped a comparatively small 5%, from 21% to 26%, while that for streaming video on TV sets accounts for another 3% of the Gen X TV viewing audience between 8 pm and 9 pm.
The first hour primetime viewing habits for the 18-49-year-old age group overall are nearly identical to those of Gen X'ers, GfK found: 64% are watching live TV, down from 83% in 2008. Another 26% view a recorded program (up from 16%), with 7% watching streaming video on a TV.
"Primetime got its name for good reasons," commented GfK SVP for Media David Tice. "It used to be the time of day when TV networks and advertisers could count on viewers behaving in predictable, passive ways – taking in the programs and sponsor messages of one of four or five channels.
"The ability to take control of their viewing choices and schedules has transformed the primetime audience; but they are still accessible to advertisers and content providers who are willing to go where empowered viewers lead them and act as helpful co-travelers."