Auto manufacturers will continue to make greater use of wireless technologies, with automotive wireless revenue forecast to increase 41% from 2012-2018, according to new research from IHS. Original equipment manufacturer (OEM) revenue for wireless technology in the global auto market will rise to $1.6 billion in 2018 from $1.1 billion in 2012, according to IHS's "Automotive Infotainment Market Tracker Report."
ABI analysts expect growth to be moderate this year following double-digit gains in 2011 to 2012. Revenue for wireless technology in cars will total $1.17 billion in 2013, up 5% from 2011, and then accelerate and come in at the 8% range during 2014 and 2015, according to IHS's forecast.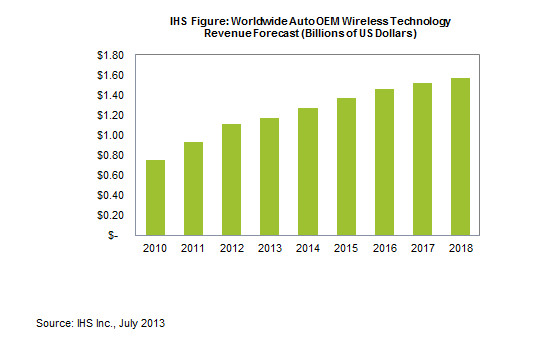 "In the automotive market, wireless connectivity demand is racing ahead of older wired technologies as applications increasingly focus on supporting mobile devices and cellular communications," IHS senior analyst for automotive infotainment Luca DeAmbroggi was quoted in a press release.
"For example, the USB legacy wired connectivity solution is being challenged by wireless mechanisms in cars such as Bluetooth for exchanging data between fixed and mobile devices over short distances, as well as embedded cellular for two-way wireless telematics connectivity."
With the next generation (known as generation 4) offering higher transfer speeds, greater reliability and lower power usage, Bluetooth will remain the preferred means of wirelessly connecting consumer devices to automobiles' entertainment stacks for the foreseeable future, according to IHS. Data transfers will be carried not by Bluetooth links but by collocated 802.11 Wi-Fi links.
Meanwhile, embedded cellular technology is making inroads in the auto sector, IHS says. Embedded cellular was present in 25% of U.S. cars sold in 2012. OEMs will look to make increasing use of the wireless technology for safety and diagnostic purposes, IHS says, "because the built-in wireless connectivity in cars will prove more robust and reliable than using a tethered or mobile device like a smartphone."
European eCall mandates require cars to be equipped with the capability of automatically calling for assistance during an accident, and telematics via mobile devices won't comply with this and other basic eCall specifications. Embedded cellular technology, in contrast, will, IHS points out.
Embedded cellular also affords auto manufacturers other advantages, such as the ability to communicate directly with customers and vehicles, such as in the case of remote software upgrades, spare parts management or vehicle recalls. That would allow OEMs "to save money by centralizing communications and also pave the way for greater customer retention through tight management of car owners' needs," according to IHS.
Most active in this area are Kia, Volvo, Daimler, BMW, Wireless Car, Vodafone and Verizon, through its acquisition of Hughes Telematics, the market research firm adds.
Image courtesy of flickr user William Sloan.