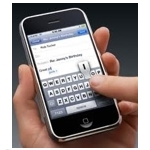 Among large tier one carriers, revenue from wireline data/broadband services surpassed voice revenues some time ago. Verizon says FiOS revenues (which include video) now account for 65% of their consumer wireline revenues. That trend is now impacting wireless services too, as wireless data revenues will soon overtake wireless voice revenue.
That's one conclusion from leading wireless industry analyst Chetan Sharma, in his latest research report, US Wireless Market Update – Q2 2012. Sharma predicts that sometime in Q2 2013, wireless data and wireless voice revenues will intersect, and the data portion will overtake the voice portion thereafter as the largest contributor to overall revenue (as defined by ARPU). Data revenue, as a percentage of total ARPU, is now approaching 45% for some carriers, including Sprint and Verizon. The industry average is 42% and Sharma predicts the wireless industry will generate $80 billion in data revenues for all of 2012.
Wireless carriers are now in the process of reinventing themselves into mobile broadband carriers. The advent of 4G, first with WiMAX, and now with LTE, is forcing carriers to adjust their business away from voice focused plans to mobile broadband plans. The shift to wireless data began with 3G, but that was more of a data overlay on top of voice services. The shift to 4G changes everything.

Look no further than the big three carriers of Verizon, AT&T, and Sprint who now focus their marketing efforts on shared and/or unlimited data plans, and smartphones & apps, than anything related to voice minutes. Walk into a wireless retail store of these carriers and you're bombarded with the digital lifestyle, fueled in large part from mobile broadband. Voice is so passé.
It's a transition that wireline carriers began to undertake a few years ago, emphasizing broadband and video over voice. Of course wireless voice is not going away. It's just being transformed to a data application that will ride a 4G LTE network, in much the same way that wireline voice is now becoming an IP application over FTTH, DOCSIS, or DSL.
In 2013, the trend will certainly accelerate, because the majority of the money will now flow from data for both wireline and wireless.