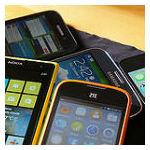 One-third of subscribers worldwide blame their mobile service providers for network quality issues and in their minds, WiFi outperforms mobile in quality of experience, according to new market research from Procera Networks. Nine out of of 10 respondents believed the quality of their WiFi connections was ¨better¨ or ¨much better¨ than that for their mobile networks.
These perceived quality issues are fueling mobile subscriber churn. One-third the mobile subscribers surveyed reportedly switched providers as a result of perceived issues with network quality, while more than than one-quarter said they had switched providers three or more times in the last 10 years, Procera highlights in a press release.
Grading Mobile Network Quality
Asked to grade their mobile network experiences from 'A' to 'F' Procera found:
1 in 3 North American and African subscribers scored their experience of Web surfing with an 'A';
1 in 3 North American and Asian subscribers scored their experience of social media with an 'A';
1 in 3 of European subscribers scored their experience of Web surfing and social media with an 'A'.
Grades were much lower when it came to mobile video streaming:
Just over 10% of North American and 15% of European subscribers gave their service providers' streaming video quality an 'A';
Real-time gaming scored the worst among subscribers worldwide, with the highest number of respondents awarding it an 'F'.
Commenting on the results, Senior Director, Subscriber Experience Marketing Thomas Vasen said: "The findings demonstrate how poor quality of experience can influence a subscriber's decision to switch network operators. This is evidenced by the fact that over a quarter of subscribers have changed their operator a number of times during the last ten years.¨ (story continues below)
Mobile network operators need to better understand how performance requirements among applications differ, and which matter most to subscribers, he continued. ¨[I]n order to plan improvements, operators need to understand what their network is capable of delivering and what subscribers care about.
¨In addition, the survey indicates that subscribers disregard which technology is delivering the service, seeing their Operator as responsible overall. It shows that true convergence is a reality for the user – further consolidation of mobile and fixed/WiFi networks will be a key strategy in securing the quality of experience that an operator delivers to their subscribers."
U.S. consumers have consistently rated telecoms/wireless network operators poorly when it comes to customer satisfaction. That said, wireless carrier customer satisfaction improved substantially recently, reaching an all-time high, according to the most recent J.D. Power research reports.
Image courtesy of flickr user Jon Fingas .