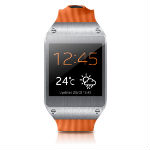 Global shipments of connected wearable devices totaled 72.5 million in 2015, rising over 186 percent year-over-year from 25.3 million in 2014, according to new research results from M2M/IoT specialist Berg Insight.
Collectively, shipments of smartwatches, smart glasses, fitness and health activity trackers, people monitoring and safety, medical and other connected devices are increasing at a compound annual growth rate (CAGR) of 25.8 percent, Berg Insights determined. Looking forward, Berg expects shipments will reach 228 million in 2020.
Wearable Shipments
Some 17.8 million of connected wearables sold in 2020 will incorporate cellular network connectivity, primarily those in the smartwatch and people monitoring and safety categories. Bluetooth will continue to be the primary means of network connectivity.
Apple is the leading smartwatch vendor, having entered the market in 2Q of this year, Berg added. Competitors are responding with smartwatches that incorporate an increasing variety of features and functions at a range of price points. Vendors of Android Wear devices, such as Asus, Huawei, LG and Motorola, are employing this strategy, as are vendors supporting other platforms, such as Samsung and Pebble.
Smartwatch sales have accelerated considerably in 2015, with shipments on track to reach 19.5 million units by year-end, Berg says – 353 percent higher year-over-year. "This market development has not gone unnoticed by the traditional watch industry and several vendors, including Fossil and TAG Heuer, have presented smartwatches of their own" commented Berg Insight senior analyst Johan Svanberg.
Fitness and activity trackers are the best selling category of connected wearables at present. Berg expects shipments will reach 51 million units this year. Early market entrants, such as Fitbit, Jawbone and Garmin, are seeing more competition, including from major smartphone market players.
"Xiaomi has been particularly successful with its affordable trackers and the company is the only fitness tracker vendor which can compete with Fitbit in terms of sales volumes" Svanberg added.
Berg expects prices for fitness and activity trackers will decline amidst fierce competition. Decreasing prices and a growing variety of form factors will fuel sales, with Berg expecting shipments of dedicated fitness and activity trackers to reach 71 million units in 2020.
In contrast, consumer uptake of smart glasses has been modest to date. Prospects look good, with applications in professional markets and niche consumer market segments setting the stage for a sizable smart glasses market to develop in the next five years, Berg believes.