U.S. households have been taking to digital voice assistants faster than they typically adopt new consumer electronics, according to new market research from Parks Associates. Voice assistant penetration rose from 5% of U.S. broadband households in 4Q 2015 to 12% in 4Q 2016, researchers said.
Fast growing consumer uptake and use of digital smart home voice assistants, such as Amazon Echo and Google Home, is fueling a rush to app development and market introductions on the part of vendors, Parks reports.
"In the past five years, voice control and voice-based technologies have experienced massive growth in the consumer market, igniting the competitive landscape among current and emerging smart home players," Parks Associates research analyst Dina Abdelrazik said.
"Voice interfaces are advancing due to continued improvements in machine learning and natural language processing, paired with the prevalence of portable devices. Apple increased consumer familiarity of voice control with its introduction of Siri in 2011, but the later-to-market Amazon Alexa has taken a clear lead in this category."
Voice Assistant Penetration
According to Parks' surveys, more consumers said they wanted to use voice-activated personal assistance to control smart home devices as compared to voice-controlled entertainment devices, albeit by a margin of just one percent – 56 vs. 55%.
Parks sees adoption increasing further as voice assistant support becomes available for the many and varied prospective uses in both the smart home and broader IoT market spaces.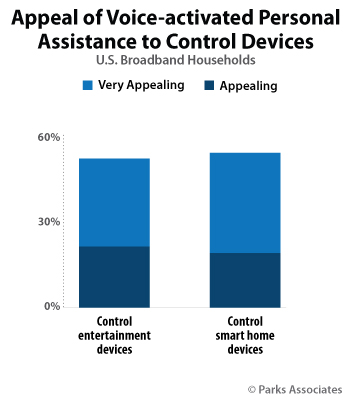 "The Alexa Skills Kit has grown by roughly 40% since January 2016, recently exceeding 10,000 skills, and Amazon plans to release new Alexa devices that can also make phone calls and work as intercoms. Google Home has countered by adding its Google Express delivery network for home shopping" Abdelrazik pointed out.
Lying just underneath and driving advances in voice assistant and other emerging digital tools is artificial intelligence (AI), IHS Markit highlights in recently released market research.
Smartphones are providing the AI interface for consumers and delivering the copious quantities of usage and performance data tech developers require to "train" and improve AI systems, the market research provider points out.
"We see AI making smart devices even smarter with improved user experiences," said Ian Fogg, IHS Markit director of mobile and telecom analysis. "Existing AI agents like Apple's Siri and Google Assistant will expand across the industry, complemented by embedded AI in all parts of mobile devices from cameras, to audio, to machine."