Eight companies have at least 4 percent of the U.S. Ethernet services each, according to Vertical System Group's mid-year U.S. Carrier Ethernet Leaderboard. Those Carrier Ethernet market share leaders, in order, are AT&T, Level 3, Verizon, Spectrum Enterprise (Charter), CenturyLink, Comcast, Windstream and Cox.
There were some changes in that order. Verizon, which added ports via the acquisition of XO, moved from fourth to third. XO had been seventh at the end of last year. Spectrum dropped from third to fourth place.
"While the pace of growth has slowed from the market ramp years, demand for Carrier Ethernet services remains very strong in 2017," said Vertical Systems Group Principal Rick Malone in a press release. "The revenue and profitability outlooks for many providers are improving as fiber buildouts are completed and pricing begins to stabilize."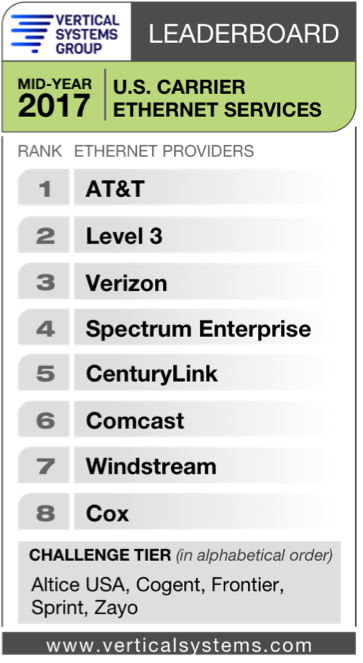 It is interesting to note that only one competitive provider—Level 3 – is in the Leaderboard category. The other seven companies are incumbent telecom carriers (AT&T, Verizon, CenturyLink and Windstream) or cable MSOs (Charter's Spectrum Enterprise, Comcast and Cox).
Carrier Ethernet Market Share
The Vertical Systems Leaderboard also tracks Challenge and Market Player tiers.
Altice USA, Cogent, Sprint, Frontier and Zayo are listed on The Challenge Tier, which includes providers with between 1 percent and 4 percent of U.S. market share. Frontier is new to the list.
There are numerous companies in the Market Player Tier, which includes firms with less than 1 percent of the U.S. market share.
The Carrier Ethernet Leaderboard is closely related to Vertical Systems' U.S. Fiber-Lit Leaderboard. The latest version of that report was released earlier this month. Companies on that list provided on-net connectivity to 10,000 or more commercial buildings in the United States as of the end of last year. There were 11 companies on the list: AT&T, Verizon, Spectrum Enterprise, CenturyLink, Comcast, Level 3, Cox, Lightower, Zayo, Altice USA and Frontier.
Image courtesy of flickr user Yuri Samoilov.