Verizon has the fastest 5G service in the United States with an average download speed of 722.9 Mbps, according to a new report from OpenSignal. T-Mobile service deployed in the 600 MHz spectrum band had the broadest 5G coverage, resulting in customers with 5G phones operating in that band being on 5G more than half (53%) of the time.
The results confirm what 5G stakeholders have been saying since the technology was in development: Higher-frequency spectrum yields faster speeds but over shorter distances in comparison with lower frequency spectrum. Verizon has deployed 5G in ultra-high-frequency millimeter-wave spectrum, while T-Mobile has relied primarily on low-frequency, also known as low-band, spectrum. Because T-Mobile used low-band spectrum, the company also has managed to cover the majority of the U.S. population with the service.
Another result of those decisions is that T-Mobile's average 5G speed was just 47.5 Mbps for the 600 MHz service, while customers with Verizon 5G phones were on 5G only 6% of the time. T-Mobile also has used millimeter wave spectrum to support 5G in a few markets, and customers on that service saw speeds of 243 Mbps but were on the network only 10.6% of the time. (At the time of testing, no 5G phones supported both 600 MHz and millimeter wave spectrum.)
Fastest U.S. 5G
Like T-Mobile, AT&T also has used both low-band and millimeter wave spectrum for 5G, but OpenSignal only tested the company's low-band 5G service, noting that the millimeter wave service is intended primarily for business customers. AT&T's low-band 5G speeds, measured at 59.3 Mbps, were similar to those of T-Mobile. AT&T hasn't deployed the service as broadly as T-Mobile has, however, which means that AT&T customers with 5G phones were on 5G only 10.6% of the time.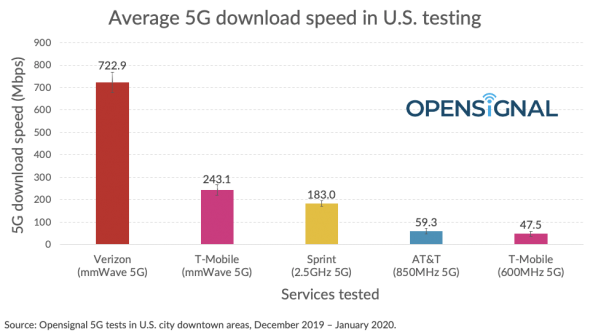 Some stakeholders consider mid-band spectrum to be the Goldilocks spectrum – not too high and not too low – and results for Sprint support the notion that mid-band spectrum offers a good tradeoff between speeds and coverage. Sprint is the only U.S. carrier to date to deploy 5G in mid-band spectrum. The company's average 5G speed was 183 Mbps – slower than Verizon or T-Mobile millimeter wave service but faster than T-Mobile low-band service. And Sprint customers with 5G phones were on 5G 47.4% of the time.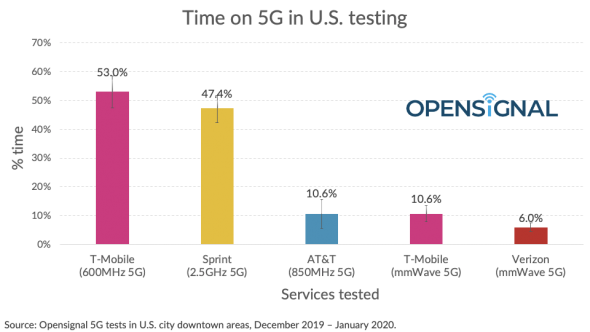 Eventually, all U.S. wireless providers are expected to use a mixture of low-band, mid-band and millimeter wave spectrum to support 5G. As OpenSignal notes, however, there is plenty of room for confusion at this point, as customers' 5G experience will vary dramatically from one company to another.
Something to keep an eye on in the future is what happens to T-Mobile's 5G performance when customers use phones supporting both low-band 600 MHz and millimeter wave operation. The first phone to support both bands – the Samsung Galaxy S20 Ultra 5G – will be available in early March, OpenSignal notes.
Will the blended experience that phone supports cause T-Mobile's average 5G speeds to look more like Sprint's mid-band performance? Future OpenSignal testing should answer that question.
Another research firm that has tested U.S. 5G speeds is IHS Markit RootMetrics. Last month, that firm also found that Verizon had the fastest U.S. 5G, with an average speed of 627 Mbps.