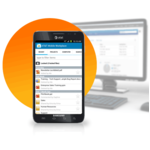 The migration to all-IP communications infrastructure – voice, data and television – continues apace, as unified communications platforms continue to expand and replace legacy PBX systems.
Tracking the markets for PBX phone systems in 1Q 2014, voice-over-IP (VoIP) gateways, unified communications (UC) applications and IP phones, Infonetics Research found that the unified communications revenue increased 27 percent worldwide in 1Q. Worldwide PBX revenue, in contrast, slumped another 8 percent year over year and sequentially from 4Q 2013.
Commenting on the results of its latest quarterly market research, Infonetics' principal analyst for VoIP, UC and IMS Diane Myers elaborated by noting that, "[t]he enterprise telephony market continues to struggle as businesses hold off new PBX purchases and invest instead in unified communications (UC) applications.
"Purchase cycles are getting longer, and competitive activity is putting pressure on the market, with pricing all over the map."
Other highlights of Infonetics' 1Q "Enterprise Unified Communications and Voice Equipment" report include:
Although there are pockets of growth in parts of Europe and South America, along with strength down market, none of it is large enough to lift the overall PBX market;
CALA (the Caribbean and Latin America) is the only region to notch positive year-over-year PBX revenue growth in 1Q14, as economic activity picked up in anticipation of the World Cup;
Cisco, Avaya, and NEC are the PBX market share leaders; Mitel cracked the top 4 as a result of its merger with Aastra;
Microsoft, which leads the UC market, is the only vendor in the enterprise telephony segment to post year-over-year revenue growth in 1Q14