Combined data traffic streaming over cellular and Wi-Fi networks exploded between 2H 2013 and 1H 2015, rising over threefold, according to Strategy Analytics' Telemetry Intelligence Platform.
Monthly wireless data usage for U.S. smartphone users averaged 9.7 GB during 1H'15. Only 1.6 GB/month (17 percent of total data) crossed over cellular networks, Strategy Analytics highlights in a press release.
Digging deeper into the data, Strategy Analytics found that African-Americans accessed more data over wireless networks than any other ethnicity. The U.S.' second-largest ethnic group, Hispanics didn't access as much data via cellular networks as African-Americans.
Monthly Wireless Data Usage
Other highlights from the report include:
At a user level, Whites realize the lowest traffic on Wi-Fi networks, but the group is now the second fastest (on Wi-Fi Networks) growing segment behind Asians.
Hispanics, as the second largest ethnic group, under-perform African Americans in overall traffic generated on cellular networks.
Wi-Fi traffic is growing at more than double the rate of Cellular traffic across all ethnicities.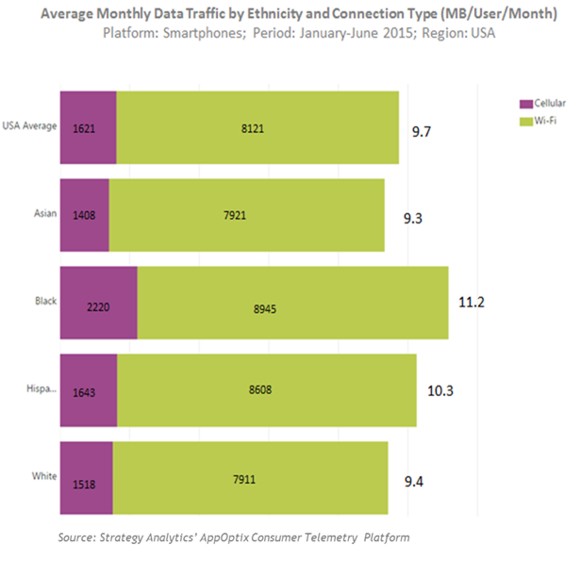 "Our data suggests that service plans geared towards African-Americans and Hispanics show distinct traffic patterns on both Cellular and Wi-Fi networks – the most notable among these offerings are the Unlimited Plans from Boost Mobile and the Pay-As-You-Go options from Tracfone,¨ commented Bonny Joy, chief of Strategy Analytics' Consumer Telemetry Platforms.