South Korea was the top-ranked country in terms of mobile download speed in Opensignal's newest The State of Mobile report. It was the only country to score over 50 Mbps in download speed experience. Norway was second at 48.2 Mbps.
Canada's performance jumped significantly, placing third at 42.5 Mbps, just ahead of the Netherlands at 42.4 Mbps. According to Opensignal, "Canada's  impressive third place is little surprise, since our most recent report on Canada found our users on all three operators experienced over 35  Mbps in download speed experience, while speeds of over 60 Mbps weren't uncommon in the country's biggest cities."
Most countries were in the 10 to 20 Mbps range. The U.S. clocked in just ahead of that range, at 21.3 Mbps. Download speeds for smartphone users ranged from 32.9 Mbps in New Jersey to 12.1 Mbps in Mississippi. The fastest states were a mixture of mid-Atlantic and New England population centers alongside U.S. heartland states Ohio and Minnesota, which ranked fourth and fifth, respectively.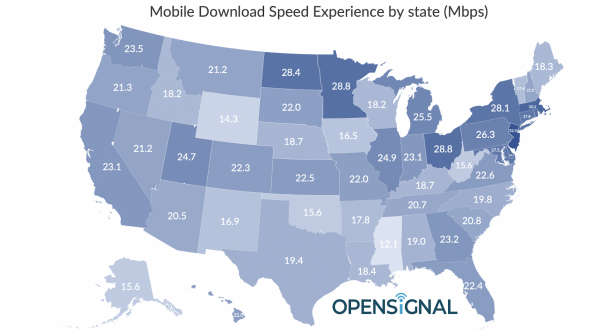 Opensignal added that technology hub cities did not fare well; when compared with the 50 largest cities: San Francisco, Seattle and Austin ranked in the bottom half of the largest fifty cities on measures of download speed, upload speed and video experience.
Baltimore and New York provided users the most responsive experience with average latencies of 44ms, but which is a long way from 5G's single digit target.
Additional key findings of the Opensignal report include:
Cleveland (33.8 Mbps) and Minneapolis (32.2 Mbps), which is pegged as one of the first cities to roll out 5G, offered users the fastest Download Speed Experience across the fifty largest cities.
Additional cities aiming for early 5G rollouts didn't perform quite as well with mobile download speed in Q1: Chicago (26.4 Mbps), Los Angeles (23.1 Mbps), Sacramento (22.9 Mbps) and Austin (20.4 Mbps).
New York City and Salt Lake City's high upload speeds offer the best experience for sharing smartphone photos and videos.
Despite being the home to the Hollywood digital content machine, Los Angeles ranked just 30th for mobile Video Experience with a score of 53.3, which rates as just "Fair" in Opensignal's metric.
"With 5G services arriving in the US, mobile telecom carriers are looking to highlight the superior experience of the latest generation of mobile network technology," the Opensignal report said. "However, consumers will only be convinced of carriers' 5G marketing claims if the real-world 5G experience is superior to what is possible with the older 3G and 4G technologies that remain in wide use."
Image courtesy of flickr user Jim Makos.