The U.S. residential median broadband price was $80 per month during the second quarter of 2017, according to research from Point Topic.
Globally, the average residential download speed was 135 Mbps and the average monthly charge was $105. The best value was provided by fiber (208 Mbps for $94) and the worst by copper (14 Mbps for $68).
Median Broadband Price
The range between high and low prices for broadband service tend to be more extreme in some countries than in others, according to Point Topic's data. India (a high/low range of about $120/$5), Brazil (about $115/$20) and Turkey (about $118/$20) have a higher range, while Germany (about $50/$22), Japan (about $35/$3), South Korea (about $55/$30) and Russia (about $30/$5) tend to have less of a gap between high and low broadband speeds.
The midrange seems to be comprised of China (about $60/$5), the United States (about $85/$15), France (about $55/$10) and  the U.K. (about $55/$5).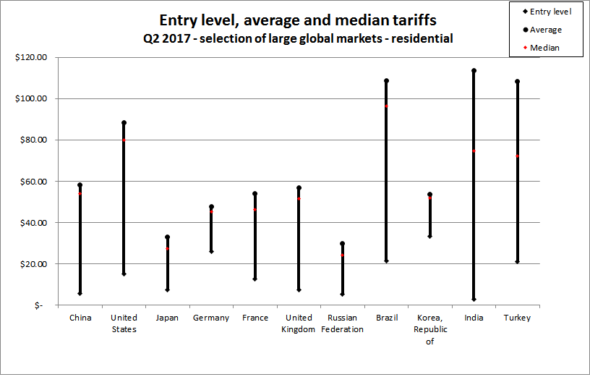 The wide-ranging research from the firm equalized on U.S. dollars in order to enable a comparison between regions for the cost of a given amount of bandwidth.
Asia-Pacific, which is more reliant on FTTP infrastructure, offered average residential bandwidth of 390 Mbps, which was down from the first quarter average of 405 Mbps. Western Europe, which features VDSL and g.Fast copper technologies, was second at 183 Mbps. That constituted a jump from 164 Mbps during the first quarter. North American bandwidth jumped 14 percent.
Business Pricing
The Asia-Pacific region enjoyed the fastest business download speed at 417 Mbps. Globally, the price for business broadband receded $4 – from $201 to $197 – between the first and second quarters of the year. Average speeds rose from 100 Mbps to 107 Mbps between the quarters. The growth was driven by an increase in the average download speed of fiber-based business packages, which grew 7 percent (after growth of 4 percent between the fourth quarter of 2016 and the first quarter of this year). Costs were stagnant for copper, dropped slightly for coaxial cable and fell 6 percent for fiber.
At the end of the second quarter, the average cost per Mbps for business broadband worldwide dropped 8 percent and stood at $1.84. This resulted, in part, from decreases in the cost of fiber and cable broadband service. Western Europe and North America featured the lowest priced business tariffs.