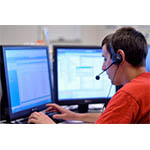 The high-tech economy plays an important role in every U.S. Congressional district, including providing an average of nearly 30,000 jobs per congressional district, according to new research about U.S. high-tech jobs from the Information Technology & Innovation Foundation.
"The U.S. economy is extremely diverse, and different regions may specialize in different products and services, but all industries have an opportunity to capitalize on technological innovation to increase their productivity and competitiveness, thereby increasing their employees' wages and Americans' standards of living," says the report, titled "High-Tech Nation: How Technological Innovation Shapes America's 435 Congressional Districts."
The report contains numerous maps depicting the high-tech economy, many of which show that high-tech has made its way into numerous geographic areas. For example, a map depicting high-tech's share of the total workforce shows high-percentile Congressional districts in numerous states and regions.
According to details that accompany this map in the report, the share of the total workforce that includes U.S. high-tech jobs is 8.4% on average, but is 13.4% or higher in the top 50 Congressional districts, which include districts in 20 states.
"[A]ll districts have some kind of technology and innovation-driven activity occurring locally, either because long-established industries such as agriculture, mining, manufacturing and professional services are rapidly evolving into tech-enabled industries, or because new developments such as cloud computing and ubiquitous access to broadband Internet service allow innovators to create new, IT-enabled enterprises in any small town or rural area they may choose, not just in Silicon Valley or Boston," the report states.
U.S. High-Tech Jobs
Despite this, "tech policy traditionally has "been the province of only the few members of Congress who represent districts or states that are recognizably tech-heavy" and that needs to change, the ITIF report argues.
The report advises policymakers to "find common cause in advancing an agenda that builds up the shared foundations of national strength in a globally integrated marketplace." Among other things, these shared foundations, according to ITIF, include:
A highly educated and skilled workforce for which there must be better STEM education, along with policies that encourage high-skilled immigration
Robust research and development, which demands expanded federal investment in scientific and engineering research, along with corporate tax reforms such as an expanded R&D tax credit
Digital-age infrastructure, including wired and wireless broadband, as well as hybrid digital infrastructure that incorporates sensors and other information technologies to boost productivity
Globally competitive high-tech industries, which need all of the above, as well as the right regulatory and trade policies so companies can grow and access global markets.
Some of the ITIF's recommendations could be a hard sell in today's environment, however. For example, the idea that the U.S. should encourage high-skilled immigration would appear to be at odds with some of the isolationist ideas proposed by President-Elect Trump.
Whether or not one agrees with ITIF's recommendations, however, the ITIF research could be a useful resource for anyone wanting to understand high-tech's role in their own local economy. In addition to the data contained in the 56-page report, interested parties can use an online interface to download additional details about specific states or congressional districts.
Image courtesy of flickr user tyle_r.