The connected TV market will surge higher out to 2020, when U.S. connected TV penetration will represent 71.2 percent of U.S. Internet users and 60.4 percent of the national population in 2016, according to new market research from eMarketer.
e-Marketer pegs this year's growth rate for U.S. connected TV users at 20.6 percent to reach a total of 181.8 million. Growth will drop to single-digit rates in 2017 and level off through 2020 when eMarketer predicts there will be 202.1 million connected TV users in the U.S.
Zooming in on smart TV users, eMarketer expects their number will rise to represent 34.4 percent of connected TV users nationwide by 2020, up from 26.9 percent in 2016.
Use of connected TV devices should see strong growth as well. Emarketer expects Amazon and Google's connected TV devices setting the pace, followed by Roku players and smart TVs. Growth in use of Apple TV and connected TV game consoles will be more moderate and that for Blu-ray players will remain essentially level.
Collectively, eMarketer predicts the number of U.S. connected TV users will increase at a CAGR of 2.68 percent from 2016-2020, slower than for all individual device types except Blu-ray players. That suggests viewers will increasingly use multiple connected TV devices, which would account for the forecast for individual device growth rates being higher than that for the category as a whole.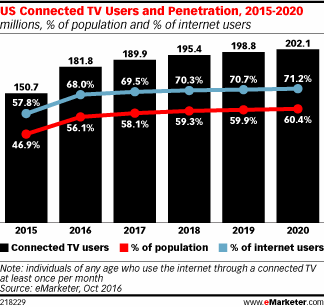 In terms of U.S. households, eMarketer anticipates connected TV devices will be in use in 97.7 million by the end of the forecast period, up from 88.7 million by the end of this year. In parallel with growth rates for individuals, connected TV growth rates for U.S. households will top 20 percent this year and drop into the single digits and level off for the remainder of the forecast period.
According to a study from Frank N. Magid Associates, connected TV devices accounted for 20 percent of weekly digital video viewing time nationwide in August, eMarketer notes.
Highlighting the rapid rise in mobile video viewing, mobile devices accounted for 33 percent of such viewing, researchers said. Computers remained the most popular means of viewing digital video, accounting for 46 percent of the total.
Connected TV viewing accounted for the smallest share of the three major device platforms, but increased by a factor of 2.5 in the two years leading up to the study.
In recent, related market research, IHS Technology found that more than half of the TV sets shipped worldwide in 1Q'16 were smart TVs. In North America, smart TV shipments represented 56 percent of the region-wide total.
The uptick marks a milestone for smart TV manufacturers and more broadly, in the transition to digital television networking and content distribution. "It is a remarkable result. The industrial market showed resilience in 2015 and all signs are pointing to improving growth in the future," IHS Technology Principal Analyst Paul Gray was quoted as saying.
Image courtesy of flickr user Vadim Smakhtin.