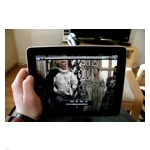 Despite all the rapid growth and media attention, "cord cutters" and over-the-top (OTT) video services don't pose a serious threat to Pay-TV providers, at least not yet, says Altman Vilandrie & Co. Ominous signs are there, however, particularly when it comes to competition for fast growing mobile device viewing, according to an Altman Vilandrie & Co.  annual survey of consumer viewing habits.
Less than 5% of U.S. consumers watch online video regularly instead of subscribing to cable TV,  an insignificant year over year increase, researchers said.
Most of those who "cut the cord" did so for reasons of affordability or perceived value of their cable service, "not because online video was a complete substitute," Altman Vilandrie states in a press release. Those who did cancel their cable subscriptions moreover, "spent less and subscribed to fewer services than average subscribers."
Live viewing of TV programming has proven resilient, according to the annual survey results, which Altman Vilandrie has conducted with Research Now since 2009. Live viewing is especially important to younger viewers, the market researchers found.
On the other hand, cable providers' efforts to garner mobile viewing market share through "TV Everywhere" is falling short. "Cable's initiatives to bring content to mobile devices, dubbed 'TV Everywhere,' have low awareness, and cable risks losing the mobile viewing battle to Netflix and other online providers," according to Altman Vilandrie's analysis.
While not a complete substitute, 80% of consumers under 35 now watch TV shows and movies online weekly, along with nearly half of older viewers. "Mobile device viewing is exploding with more than a quarter of people under 45 watching TV shows and movies on a tablet weekly," according to the market research company.
The percentage watching TV shows and movies weekly on smartphones has nearly tripled since 2011, rising from 5% to 14% in 2013. Twenty percent of 35-44 year olds now watch TV shows or movies on a smartphone weekly, according to Altman Vilandrie.
"This is a good news/bad news story for cable operators," commented Altman Vilandrie & Co. director and survey director Jonathan Hurd. "Live sports, news, and popular series are sustaining cable, and 'appointment viewing' is popular among younger viewers due to social media. But if operators can't figure out how to market TV Everywhere they may lose out on younger viewers who want to watch TV shows on tablets, laptops, and smartphones."
Those that are sticking with their cable subscriptions are paring back on spending, however. "Cord shaving" has doubled since 2010, the market researchers found, "with 26 percent now reporting they have cut back on cable services like video-on-demand." More than 40% of cable subscribers under 35 said they have "seriously considered" dropping their cable TV service completely.
Other report highlights include:
Among those keeping their cable TV subscriptions, the desire to watch live news (75%), new TV shows (66%) and live sports (59%) were the main reasons given.
Even with the boom in online and mobile viewing, the level of TV watching during normal broadcast time is roughly the same as in 2010, with 80 percent of consumers saying they do so weekly vs. 81% in 2010.
"Binge watching" of programs through Netflix or other sources has also gained popularity, with 54 percent of consumers now indulging in marathon viewing sessions of a specific program.
Only half of those under 35 want a traditional TV remote, preferring a mobile device or laptop.
Even though all of the major multichannel providers offer some form of TV Everywhere, only 32 percent said their cable TV subscription included access to this service. That number dropped to 24 percent for viewers over 55.
Nearly half of non-subscribers under age 35 said they expect to subscribe to cable within five years.
Image courtesy of flickr user bendodson.