Robocalls went up only modestly in January, with Americans receiving an estimated 5.5 billion of the automated calls during the month, compared to 5.3 billion in December, according to a new Robokiller Insights report.
That means the rate of robocall growth has declined, researchers said.
Robokiller also said it has seen a drop in some of the most malicious robocall categories: calls involving car warranties (down 35% from December), student loans (down 33% from December), and now home mortgages (down 54% in January, following a recent FCC crackdown).
The decline in these well-known robocalls is partly on account of FCC actions to curb them, Robokiller said, though those scammers continue to benefit despite those actions. The Federal Trade Commission estimates average robocall losses to be $1,200.
A robocall report from YouMail released just last week saw the situation a bit differently, arguing that FCC anti-robocall activities had barely made a dent in the number of robocalls.
YouMail also reported lower overall robocall numbers than Robokiller did. According to YouMail, consumers in the U.S. received a bit more than 4.5 billion robocalls in January, which is about midway between the 4.2 billion and 4.7 billion calls per month that consumers have been getting since last August. It was about 200 million more than in December.
Robotexts
Robokiller looked at robotexts as well as robocalls. According to the researchers, Americans received 14 billion robotexts during the month, down far from the 47 billion and 55 billion they received in November and December, respectively.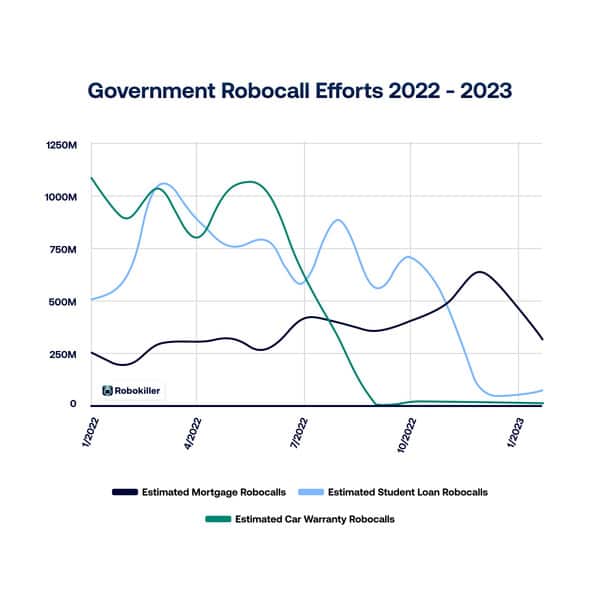 Robokiller warned in its press release that employment and tax season scams may become threats soon. With job offers enticing in the wake of layoff announcements and the annual rise in scams purporting to be from the IRS, consumers should be particularly cautious about any such communications.