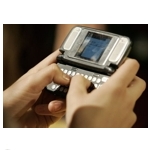 Teens are texting more as more and more of them are using smartphones, according to results of a Pew Internet & American Life Project survey. Teen texting volumes have risen from 50-a-day in 2009 to 60-a-day for the median text user, while some 23% of teens ages 12-17 said they have a smartphone. Ownership is high among older teens: 31% of teens 14-17 said they own one as compared to just 8% among those 12-13, Pew project researchers found.
Telephone interviews with a nationally representative sample of 799 teens ages 12-17 were conducted in carrying out the Pew Internet & American Life Projects' "2011 Teens and Digital Citizenship Survey."
Also among the findings included in the report:
Much of this increase occurred among older teens ages 14-17, who went from a median of 60 texts a day to a median of 100 two years later. Boys of all ages also increased their texting volume from a median of 30 texts daily in 2009 to 50 texts in 2011. African-American teens showed an increase from a median of 60 texts per day to 80.
Older girls remain the most enthusiastic texters, with a median of 100 texts a day in 2011, compared with 50 for boys the same age.
63% of all teens say they exchange text messages every day with people in their lives. This far surpasses the frequency with which they pick other forms of daily communication, including phone calling by cell phone (39% do that with others every day), face-to-face socializing outside of school (35%), social network site messaging (29%), instant messaging (22%), talking on landlines (19%) and emailing (6%).
Pew's research team also found that teens' phone conversations with friends are slipping in frequency, though the survey also shows that "the heaviest texters are also the heaviest talkers."
14% of all teens say they talk daily with friends on a landline, down from 30% who said so in 2009. Nearly a third (31%) of teens say they never talk on a landline with friends (or report that they cannot do so).
26% of all teens (including those with and without cell phones) say they talk daily with friends on their cell phone, down from 38% of teens in 2009.