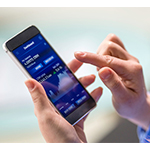 T-Mobile and Verizon are the top U.S. mobile carriers for delivering the best mobile network experience, according to new research from Opensignal. The carriers each earned three Opensignal mobile network experience awards.
AT&T won the only category that T-Mobile and Verizon didn't.
Opensignal rated T-Mobile as the top mobile operator for games experience, voice app experience and for upload speed. Verizon was rated the best for video experience, 4G coverage and 4G availability. AT&T had the top download speed.
AT&T's network users saw their average download speeds increase from 27.5 Mbps to 32.6 Mbps since January, according to Opensignal. T-Mobile's network users experienced average upload speed increases from 8.6 Mbps to 10.5 Mbps.
Opensignal measured the mobile gaming experience of U.S. users for the first time in this report. Researchers measured, on a 0-100 scale, how mobile users experience real-time multiplayer mobile gaming on an operator's network and looked at how users are impacted by mobile network conditions such as latency, packet loss and jitter.
Three of the four U.S. operators scored in the fair category (65-75 on a 0-100 scale) — users found the experience "average" and in most cases the game was responsive to the actions of the player. T-Mobile's winning score was 71.4. (Although Sprint is now part of T-Mobile, the researchers measured the Sprint network separately from T-Mobile.)

Verizon's 57.3 score won the video experience category, ahead of T-Mobile (54.6). Opensignal said the U.S. lags many other countries in this category, ranking 73rd behind countries such as Norway, South Korea, the U.K., Italy and Romania.
T-Mobile scored 80.2 in the voice experience category. Verizon, AT&T and Sprint all scored in the acceptable range (74-80), which means that some users were satisfied but some experienced perceptible call quality impairments.
The latest Opensignal top u.s. mobile carriers findings are somewhat different from what the firm found in a January 2020 report when AT&T and Verizon were deemed to provide the best mobile experience.