T-Mobile average 4G speeds have more than doubled since the carrier began using spectrum borrowed temporarily from other carriers as an emergency measure during the COVID-19 crisis, according to a new report from Opensignal, a company focused on mobile network measurement. Researchers found that T-Mobile began using the additional spectrum within three days of gaining permission from the FCC to do so.
Carriers that loaned spectrum they weren't using to T-Mobile include Dish, Comcast, Grain Management and others. The spectrum loaned was in the 600 MHz band in which T-Mobile already had deployed service. Accordingly, the company was able to turn service up remotely.
T-Mobile Average Speeds
T-Mobile has deployed 4G in the 600 MHz band in 84 of the top 100 U.S. CMAs, according to Opensignal. Prior to the FCC granting special temporary authority (STA) for T-Mobile to borrow spectrum, the company used 10 MHz of spectrum in the 600 MHz band for 4G in 82 CMAs, while using 20 MHz in just two markets.
Researchers found that within five days of the FCC's STA decision, T-Mobile turned up additional spectrum in 76 of the CMAs in which the company has deployed 4G in the 600 MHz band. Since then, the company turned up 32 additional CMAs and now uses an average of 26.6 MHz of the band for 4G in 89 markets of the top 100 CMAs.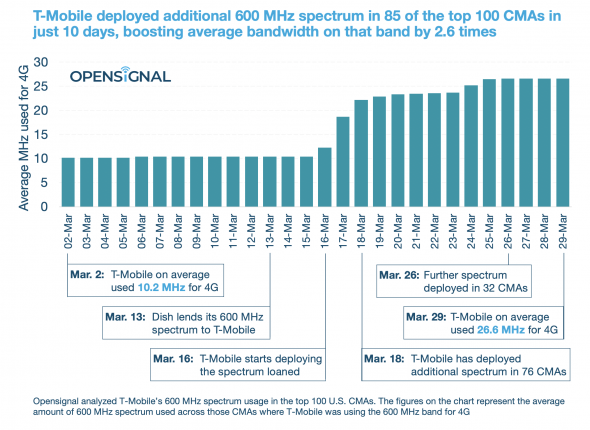 As a result, T-Mobile average speeds went from 9.9 Mbps to 20.2 Mbps on the company's 4G network. Researchers noted that the company could see speeds increase further as it has not yet fully deployed all the 600 MHz spectrum to which it has access.
T-Mobile likely is not alone in seeing mobile speed gains. Although the company was the first to borrow spectrum from other carriers to address COVID-19, other companies – including AT&T, Verizon and others — soon followed. The FCC generally has granted carriers permission to use the additional spectrum for 60 days.
Customers of T-Mobile who are experiencing faster service are more likely than in the past to be experiencing that service while remaining at home. Recent Verizon data found that mobile hand-offs were down 29% in markets where residents were subject to stay-at-home directives during the COVID-19 pandemic.