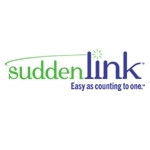 Following a growing trend among wireline and wireless broadband carriers, Suddenlink will soon institute caps for their cable modem subscribers. According to reports, the St. Louis based cable MSO will soon introduce these broadband caps in their Amarillo, Texas market, and base them on the customer's existing broadband tier.
The Stop the Cap! blog has been following this issue and reveals that the caps will be be very similar in scope to what AT&T has also implemented. Suddenlink has not formally confirmed the caps. According Stop the Cap!, the broadband caps will follow the below schedule:
150GB per month for customers subscribing to "lite" tiers of less than 10Mbps, similar to what AT&T limits its DSL customers;
250GB per month for 10, 15, or 20Mbps customers, similar to AT&T U-verse;
350GB per month for premium-priced 50 or 107Mbps service packages.
Customers will be charged $10 for every 50 GB above their designated cap.
Capping broadband consumption is a controversial practice that consumer groups generally dislike but carriers justify for consistent network quality and performance. Skeptics argue that these caps are really about pushing customers away from bandwidth hungry OTT video towards the service provider's traditional subscription video offer.
Suddenlink and other carriers dismiss these claims and say the caps only affect a very small minority of customers – 1% in this case. But those 1% can disrupt the quality and experience of portions of the other 99%, thus the need to regulate their behavior. The FCC has taken notice and address some consumer fears with their soon to be 'legal' net neutrality guidelines
As we've discussed before, the argument regarding caps on broadband consumption is conceivably over, considering how many carriers are already implementing the practice, either formally or informally. Among the largest wireline carriers, Verizon seems to be the lone holdout, preferring not to implement caps on their FiOS service – at least not yet.