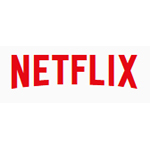 The popularity of streaming Internet TV and movie services provided over-the-top (OTT) has reached another new high point. More American Internet users are using streaming video services than have cable pay-TV subscriptions, according to an eMarketer report based on a May 2017 market study about SVOD subscribers from Fluent LLC.
Two-thirds of U.S. Internet users watch or have access to a streaming video service as compared to 61 percent who subscribe to a cable pay-TV service in their homes. Demographically, Millennials continue to set the pace when it comes to streaming video service use. More than three-quarters of those surveyed said they have access to one.
Streaming Video Subscribers
OTT streaming video services continue to gain ground among older U.S. Internet users as well. Just shy of two-thirds (65%) of non-Millennials said they had access to a streaming video service, Fluent highlights.
Also unsurprisingly, Netflix continues to reign supreme among Millennials and those 35 or older. Just over six in 10 of those surveyed (61%) said they had Neflix access. That compares to 45 percent of non-Millennials.
Amazon Prime Video was the second-most popular streaming video-on-demand (SVOD) service. Notably, it was the only one that was equally popular among Millennials and non-Millennials: 16 percent of those in both age groups said they subscribed to the SVOD service.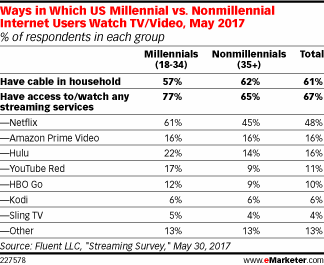 Cost was the main reason just over one-third of respondents (34%) said they signed up for a streaming video service. Furthermore, nearly three in 10 Millennials (29%) said having the convenience of watching video content on any device was their primary decision-making criterion. Just over two in 10 non-Millennials (21%) said the same.
Access to original content also figured strongly among the main motivations respondents cited. Nearly one-fifth (18%) of all respondents said it did. In contrast, access to syndicated content was cited as a reason for signing up for a streaming video service by just seven percent.
Growing numbers of TV viewers are taking a "smorgasbord" approach to content and service offerings, mixing and matching traditional broadcast, pay-TV, video-on-demand (VOD) and SVOD (OTT) services to create their own "perfect TV offer." Subscribers to "pay-TV plus SVOD"  rose to 40% of TV viewers in North America and Europe, up from 24% in mid-2015, Ampere Analysis highlights in a recently released market study.