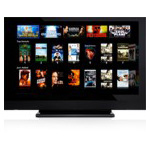 Streaming Internet services are increasingly being seen as viable substitutes for cable and satellite TV and video services, just as mobile computing devices, such as tablets, are standing in for laptop personal computers, according to results of a new survey conducted by Harris Interactive for  Belkin, a provider of connected home technology.
Thirty-nine percent of U.S. adults ages 18-34 would consider replacing their television cable or satellite service with a streaming media subscription service, such as Netflix of Hulu Plus, in 2013. Thirty-one percent between the ages of 35-54, in comparison, would consider doing so, according to the survey results.
Moreover, 37% of US adults with children under 18 are likely to consider substituting a streaming video service for their cable or satellite TV services as compared to 27% of those without children in their households, Belkin found.
Turning their attention to device preferences, survey results showed that 38% of respondents between 18 and 34 would consider replacing their laptop with a tablet in 2013. That compares with 34% of those between 35 and 54, and only 21% of those 55 and over.
Among other key findings included in the survey report:
Among U.S. adults between the ages of 18 to 34, 41 percent plan on using either their desktop or laptop computers as the primary source of news and entertainment in 2013. Adults in age groups over 34 plan on using television as their primary source of news and entertainment in 2013 (including 43 percent of those age 35 to 44; 56 percent of those age 45 to 54; and 67 percent of those age 55 and over).
Forty-two percent of Americans anticipate a desktop/laptop computer to be the most-used technology device in their household in 2013.
The next most common device that Americans see being the most-used is the television (31 percent), followed by smartphones (27 percent).
Though tablet sales have taken off in the last few years, only 20 percent of American adults anticipate a tablet to be the most used technology device in their household in 2013. Other less-used devices include gaming systems such as Xbox, PS3 and Nintendo Wii (6 percent), streaming devices such as a Blu-Ray or Apple TV (3 percent) or eReaders such as Amazon Kindle or the Nook (2 percent).
A majority of American households – 62 percent – have at least one smartphone in the home. One-quarter of the households with five or more members have three to four smartphones in their home, while households with only three to four members mostly have two smartphones (29 percent).
More than half of Americans who have children under 18 in their household (52 percent) would consider purchasing or upgrading to a new WiFi router in 2013. Only 39 percent of Americans without children in their household would do the same.
"Americans are increasingly embracing tablets, smartphones and new ways of consuming media," Nima Ahmadinejad, Belkin's vice president of products, commented. "To stay ahead of these trends, Belkin is creating products that deliver lightning-fast, next-gen WiFi coverage and rock-solid performance that can handle the needs of even the most demanding online household. Together our simple, ingenious products support a connected home, where life is easier, more fun and less work."