Speedtest Intelligence's deep dive report on satellite providers' speeds during the second quarter of 2021 easily gave top honors in satellite broadband in the U.S. to SpaceX's Starlink service, with median download speed approaching, but still short of, fixed broadband providers in the U.S.
The firm found that Starlink's median download speed was 97.23 Mbps, up significantly from its first quarter speed of 65.72 Mbps. It easily outpaced HughesNet's 19.73 Mbps (15.07 Mbps during the first half of the year) and Viasat at 18.13 Mbps (17.67 Mbps during the first half).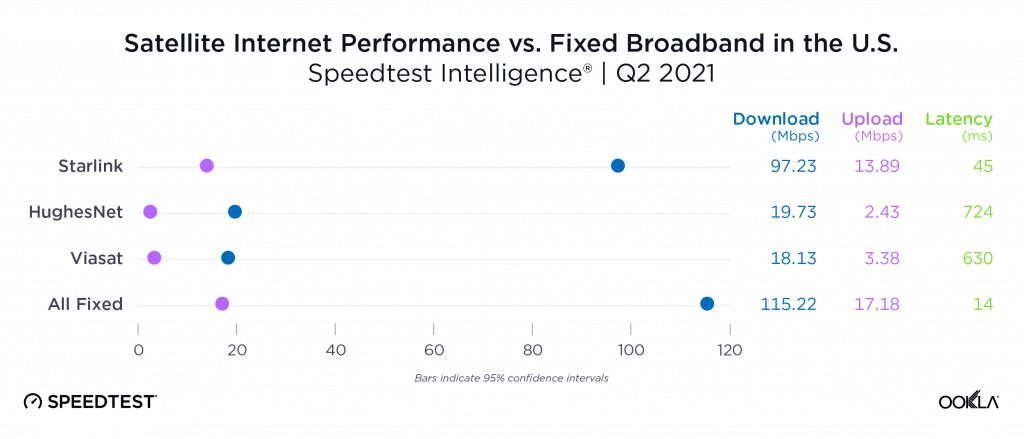 Speedtest points out that Starlink's speed was close to – but still slower — than the 115.22 Mbps median download speed for fixed broadband providers. In many remote areas, fixed broadband is limited or unavailable, however, which makes the comparison irrelevant for some of the satellite providers' target audiences.
Speedtest's upload and latency figures also showed Starlink way ahead of the other satellite providers and close to fixed broadband. Fixed broadband had a median upload speed of 17.18 Mbps and a latency of 14 milliseconds. That was close to Starlink's 13.89 Mbps upload and 45 ms latency. HughesNet (2.43 Mbps, 724 ms) and Viasat (3.38 Mbps and 630 ms) were second and third, respectively, on the satellite side.
The difference between Starlink and the other two satellite services is that the former uses low earth orbit (LEO) satellites, which are closer to earth than the 'geosynchronous' orbit of about 35,000 km for HughesNet and Viasat.
While faster, Starlink's performance was more varied across the U.S.
"We saw sufficient samples during Q2 2021 to analyze Starlink performance in 458 counties in the U.S.," a Speedtest post about the Starlink speeds report says. "While there was about a 100 Mbps range in performance between the county with the fastest median download speed (Morgan County, Alabama at 168.30 Mbps) and the county with the slowest median download speed (Madison County, Indiana at 64.51 Mbps), even the lower-end speeds are well above the FCC's Baseline performance tier of at least a 25 Mbps download speed. We also saw many more counties qualify for analysis during Q2 2021 than we saw in Q1 2021."
Viasat is trying to slow Starlink down in another way. In May, it asked the FCC to stay the "effectiveness" of a recent order granting Starlink parent company SpaceX's application to modify plans for its LEO constellation. That Viasat request was ultimately rejected by the courts though.
The faster speeds this quarter are good news for Starlink in another way. In May, Ookla speed tests found median download speeds between 40 Mbps and 93 Mbps and median latency of between 31 ms and 88 ms.
These results could have led to problems meeting service performance commitments in the FCC Rural Digital Opportunity Fund (RDOF) program. The Speedtest results are more in line with RDOF requirements.