A new pay-TV programming cost report from Kagan, S&P Global Market Intelligence, contains a wealth of data that documents the steep rise in sports programming costs in recent years. Sports programming costs for 2018 averaged $18.55 per user and represented 22.1% of average revenue per user (ARPU), up from 14.1% in 2009.
Skyrocketing Sports Costs
Individual sports channels cost pay-TV providers an average of $1.11 per subscriber per month, which is more than double the average cost per channel of 49 cents, according to the researchers. The researchers note, however, that the cost of sports channels varies considerably from one channel to the next. While the Outdoor Channel and Sportsman Channel cost between 5 and 7 cents per subscriber per month, ESPN costs an average of $7.46 per month.
Kagan's research suggests that the fees pay-TV providers charge customers for sports networks are less than programming costs for those networks. According to the researchers, the average cost per subscriber for sports networks was $13.30 in 2018 – which is less than the average sports programming cost of $18.55 per subscriber.
For now, pay-TV providers apparently are earning a margin by covering some sports programming costs with revenues from other types of programming. Moving forward, however, that may not be sustainable.
As the researchers note, for non-sports fans, "the continued growth of sports programming costs in pay-TV bills has fueled the transition to digital platforms, where there is more customization, and prices better reflect a customer's interests."
Unsurprisingly, the average cash flow margin at cable networks has grown from less than 30% in 1996 to more than 40% in 2018, according to Kagan. During the same period, margins on video for pay-TV providers declined.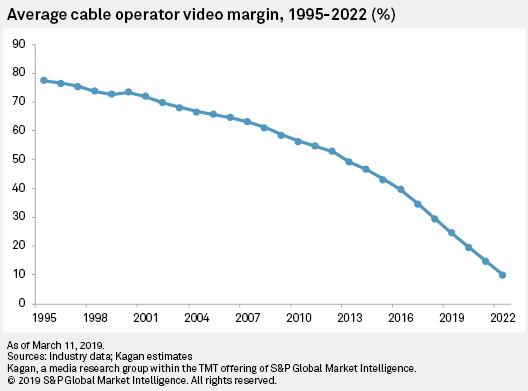 Kagan's report appears to be based primarily on data from large pay-TV providers. Smaller providers with fewer customers pay even more for programming on a per-customer basis, and some already report making no profit on video services. These providers typically offer video as part of a bundle that also includes broadband and they rely on broadband margins to help cover video programming costs.
Pay TV Programming Cost Report
Other interesting highlights from the Kagan pay-TV programming cost report, titled simply "The 2019 Sports Report," include:
Skyrocketing sports programming costs may be driven, in part, by the skyrocketing cost of attending live sports events. Despite how expensive sports programming has become, some customers may see it as a bargain in comparison with the cost of attending a game in person.
The most valuable sports content in the U.S. comes from the National Football League, whose deal with ESPN ends in 2021. NFL deals with Fox, CBS and NBC expire in 2022. AT&T's Directv unit has an exclusive contract with the NFL to broadcast every game to NFL Sunday Ticket package subscribers until the end of the 2022 season.
Of the other major professional sports leagues in the U.S. – Major League Baseball, National Basketball Association and National Hockey League—the average length of active deals is 7.5 years. In the next two years, about one quarter of local sports rights agreements will expire, including five at the end of 2019. According to the researchers, this indicates that opportunities for new entrants to expand local sports rights in the near-term are limited.
Skinny bundles aren't so slim any more. Some now offer more than 100 networks.