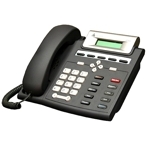 The small office/home, so-called SOHO, market segment will spend 83% more on broadband IP telephony, otherwise known as VoIP, over the next five yeas, according to a forecast from In-Stat. VoIP service is often marketed as digital voice, especially from cable companies, and end users often don't realize its an IP voice product.
"Broadband IP telephony offers a number of advantages for small businesses and SOHO; primary among them is the low monthly service fee and negligible costs for long distance," commented In-Stat research analyst Greg Potter.
"Unfortunately it does not provide the scalability associated with hosted and IP PBX solutions. It also does not typically come with the service level agreements (SLAs) and quality-of-service (QoS) afforded by other solutions, which are general requirements for enterprise and medium sized businesses."
Other research findings in In-Stat's "US Business Spending by Size of Business and Vertical, 2010-2015: Business IP/VoIP Communication Services" include:
Traditional time division multiplexing (TDM) will decline to less than $14.5 billion.
Application-based VoIP will grow 50% from 2010-2015.
VoIP spending will grow will exceed 10% in the mid-sized business segment (100-999 employees), the fastest among all segments;
The professional services vertical market segment will spend more than $3 billion on VoIP in 2013.