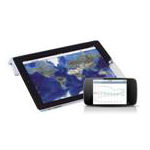 Tablets have skyrocketed in popularity, but smartphone users consume more mobile data than tablet users. That's a first, according to Arieso's third annual report on the latest trends in mobile data usage. Mobile data usage continues to rocket with the proliferation of new devices and richer content, according to Arieso's analysis, with heavy, "extreme" mobile data consumers "beginning to move to new LTE networks, but there is no let up on existing networks."
"Yet again we found that novel usage patterns, new technologies and regional idiosyncrasies are conspiring to make life increasingly difficult for mobile operators trying to meet evolving customer expectations," elaborated study author and Arieso CTO Dr. Michael Flanagan. "The ability to conduct detailed analysis such as this is critical in giving operators a rich source of intelligence to help boost network performance and enrich user experience."
For the first time, smartphone users are "consistently consuming more mobile data than tablet users," Arieso found. Smartphones accounted for six of the top 10 mobile devices via which mobile data are consumed, excluding dongles. Three were tablets and one was a "phablet. Tablet users ranked fourth, eighth and ninth.
Among the report's highlights:
 Smartphone users now consistently consume more mobile data than tablet users
 iPhone 5 users are the "hungriest" data consumers, demanding 50% more than iPhone 4S users and four times as much as iPhone 3G users
 40% of all data is consumed by 1% of users, but LTE starting to take the strain
"This is pretty counter intuitive, but it seems the capabilities of the newest smartphones – not tablets – are unleashing even greater user demand," Flanagan continued. "Once you move away from raw consumption statistics, the most remarkable finding is the way in which people use smartphones and tablets.
iPhone 5 users consume four times the amount of mobile data as iPhone 3G users and 50% more than iPhone 4S users, which topped the rankings in 2012, Arieso found. Samsung Galaxy S III users uploaded nearly four times the amount of mobile data than iPhone 3G users and topped iPhone 5 users to rank third in uplink data usage behind the Samsung Galaxy Note II. Among tablet users, the Samsung Tab 2 10.1 dominated, with users consuming 20% more mobile data than iPad users.
Looking at the "hungriest" consumers of mobile downlink data on 3G/UMTS networks, Arieso found that the top 1% of users consumed 40% of total mobile data in 2012, down from 50% in 2011, with the top 0.1% consuming almost 20% and the top 10% consuming 80%. Arieso analysts attribute the drop to the impact of new LTE networks.
LTE May Exacerbate the Problem
"The region we studied this year has recently launched LTE, and we're already seeing extreme users – especially those with dongles – starting to flock to 4G," Flanagan commented. "In many respects, this is great news – LTE networks are doing their job.
"But the consumption levels and patterns of LTE use are very different to what operators could expect from 3G. It's a complex, fluid and increasingly high stakes situation for operators to deal with. Having performance engineering solutions that can reveal the customer experience across multiple technologies is going to be vital to understanding this going forward."
Rather than alleviating network strains, the greater bandwidth afforded by LTE will have a rebound effect, resulting in increases in mobile data consumption that exceed LTE's bandwidth upgrade. "For three years now we've seen how greater technical capabilities lead to greater data consumption by consumers," Flanagan cautioned. "From our own experience helping operators around the world prepare their networks for evolving user demands, we hypothesize that LTE alone won't 'solve' the data problem – it will exacerbate it."
Greater mobile data consumption is going to put an even greater value on network planning and management, Arieso notes. "Small cells will be important, but the placing and management of these assets must be undertaken with even greater surgical precision," Arieso states in its press release.